Shurtleff, defense make early runs hold up in opener at The Hagan
EDITOR'S NOTE: Because the look back at each day in Bryant athletic history has been so favorably received during the time when there was no sports during the COVID-19 shutdown, BryantDaily.com will continueposting past stories of Bryant athletics either posted on BryantDaily.com (from 2009 to the present) or published in the Bryant Times (from 1998 to 2008).
Photos courtesy of Paul Dotson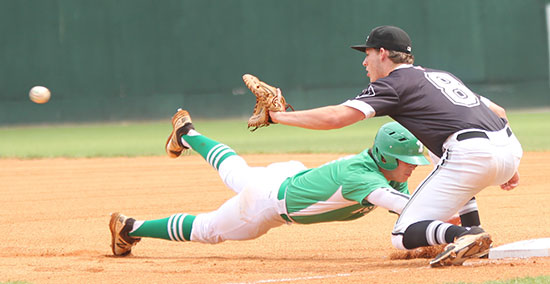 MEMPHIS, Tenn. — Logan Allen and Brandon Hoover each drove in two runs and Alex Shurtleff went the distance on the mound as the Bryant Black Sox Senior American Legion team opened pool play in the 18U Division of the Keith Hagan Memorial All-American Classic at Tony Gagliano Field with a 5-3 win over the Memphis Tigers (Perritt) this morning. The Sox were scheduled to play again tonight at 9 against East Coast Select.
The win over Memphis (Perritt) was the Black Sox' 13th win in a row, improving their record to 16-3.
The Sox scored five runs over the first two innings to take a 5-2 lead and Shurtleff, despite surrendering 11 hits in the game, made that stand up. The Tigers stranded seven, grounded into a doubleplay and had a runner picked off. Shurtleff only walked one while striking out four. It helped too that the Sox played errorless defense behind him.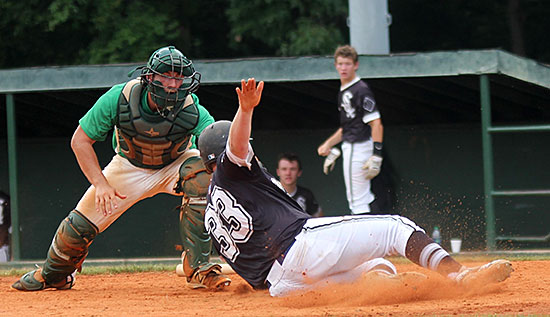 Memphis took a 1-0 lead in the opening frame. Keagan Voss walked but was forced at second on a grounder to Scott Schmidt at second off the bat of Nathan McMeans. Shurtleff struck out Nathan Ruble but McMeans stole second and scored on a two-out two-strike double by right by Casey Harford.
Shurtleff got Casey Harford to tap back to the mound to end the inning.
In the bottom of the first, Jake East cracked a one-out double to right. Allen moved him to third with a grounder to the right side. Dylan Hurt's grounder to short was misplayed and East scored to tie the game.
Aaron Orender walked to set up a two-run double by Hoover that made it 3-1.
Memphis got one run back in the top of the second. Hudson Peritt blooped a single to center. Though courtesy runner Dalton Fowler was forced at second on T.J. Klutts' grounder to Schmidt, Bam Cochran doubled to drive in Klutts, making it 3-2.
Preston Perkins followed with a bloop to left that fell in front of left-fielder Myers Buck. Cochran, who held up initially, tried to get to third but was gunned down by Buck for the second out.
Voss beat out an infield hit but Shurtleff forced the Tigers to strand two when he got McMeans to tap back to the mound.
Again, the Sox trumped that inning with two in the home second. Buck and Seth Tucker drew lead-off walks from Tigers' starter Will Nash. With one out, Allen came through with a triple on a liner to left, making it 5-2.
Memphis started the top of the third with a single by Ruble and an error that allowed Casey Harford to reach. But Shurtleff got Chris Swanberg to fly to Allen in center. Ruble tagged and went to third but the inning came to a close when the Sox turned a doubleplay.
Memphis reliever Nick Myers came on in the bottom of the third and was greeted by Hoover's second double. But he retired the next three to keep the Sox from adding on.
The Tigers were set down in order in the top of the fourth, which included two Shurtleff strikeouts.
For Bryant, Tucker led off with an infield hit but, after East popped to second, he was thrown out trying to steal second. Allen lined to left to send it to the fifth.
Voss legged out an infield hit for Memphis but after McMeans popped to East at short, Hurt picked Voss off first. Pinch-hitter Parker Moss fouled out to Matthew Sandidge in right to end the inning.
Hoover walked with two out in the home fifth but Myers otherwise set down the Sox.
Memphis made a bid at a comeback in the sixth but only picked up one run. Hartford and Swanberg each singled. Hartford tagged and went to third on Peritt's fly to center. He then scored when Klutts grounded out to Schmidt at second. Cochran flew out to Allen.
In the seventh, Perkins beat out a single but Voss fanned. McMeans grounded into a force at second and, though Moss blooped a single to left, Hartford flew out to Sandidge in right to end the game.