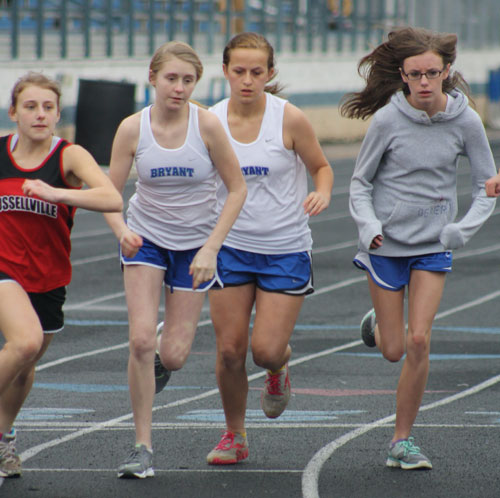 File photos courtesy of Jason Majors
PEARCY — Haley Hood accumulated 31 points and Reagan Smith added 25.5 points as the Bryant[more] Lady Hornets freshman track team accumulated 199 points at the Lake Hamilton Junior High Invitational on Thursday.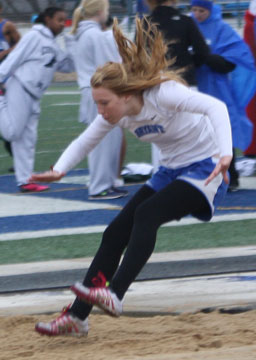 For team honors, the Lady Hornets were edged out by the hosting Lake Hamilton team, which finished with 208 points, in the seven-team meet.
According to Bryant coach Beth Solomon, the meet was a late addition to the freshman schedule.
"There was going to be a conflict last week when we were at Conway but since Lake Hamilton decided to reschedule their meet for this week, it allowed us to go and get another meet in before our conference meet next week," she said. "I'm so glad that we were able to get this meet in. I think that we had some really good performances and will be geared up and ready for conference."
Bryant will host the Central Arkansas Junior High Conference championship meet on Thursday, April 18.
"Haley Hood had a great night," Solomon noted. "Our relay teams also had really good nights.
"We were able to enter more athletes in this meet so we had some girls that really shined that haven't had the opportunity," she added. "Kristen Thompson filled in for us on the 4×400 relay and did an excellent job."
The Lady Hornets won all three relays and, individually, Hood, Hannah Shelby, and Ann Marie Keith turned in first-place performances.
In the 4×100, Jordan Duval combined with Hood, Smith and Keith on a 54.83 clocking. In the 4×400, Hunter Delaney teamed up with Hood, Thompson and Keith on a 4:49.63. It was Delaney, Shelby, Sarah Cowell and Melissa Barrientos joining forces on a 12:08.00.
Hood not only won the 400 with a time of 1:05.82 but finished second in the 200 (29.40) and the high jump (4'4").
Shelby's win came in the 1600, which she finished in 6:13.04. She was also third in the 800 at 2:52.61.
Keith, who accumulated 21 points in the meet, won the 300 hurdles with a time of 53.23. She was also third in the 100 hurdles in 18.15.
In addition to contributing to the 4×11 relay, Smith scored in four individual events. She was third in the 100 (14.22), the 200 (30.19) and the triple jump (29'5") as well as sixth in the pole vault (5'9").
Delaney and Sharayah Wallace each had second-place finishes. Delaney's came in the 800 with a time of 2:52.01. Wallace's came in the discus with her toss of 83'9". She was also third in the shot put with a fling of 29'6".
Jaela Hunter was fourth in the discus (52'11") and sixth in the shot (24'4.5").
Jayda Allen and Megan Curry each contributed points in three events. Allen finished fourth in the long jump (13'4.5") and the triple jump (27'7.5"). She was also sixth in the 200 meter dash with a time of 31.98.
Curry was fifth in the 100 hurdles (19.08), the pole vault (5'9") and the long jump (13'2").
Sarah Cowell was third and Monica Griffin fourth in the 1600. Cowell ran a 6:21.14 and Griffin finished in 6:48.65.
Jordan Duval turned in a fourth-place finish in the 100 (14.54) and a fifth in the 400 (1:13.74) with Annaliese Davis seventh in 1:18.17).
Kalyn McDade earned fourth-place points in the 300 hurdles (1:01.91) and eighth in the 100 hurdles (20.60), while Emma Barnes finished fifth in the 800 (3:07.73) and Thompson took sixth in the triple jump (25'7.25").