Photo by Rick Nation
By Rob Patrick
CONWAY — Drew Alpe would not be denied.[more]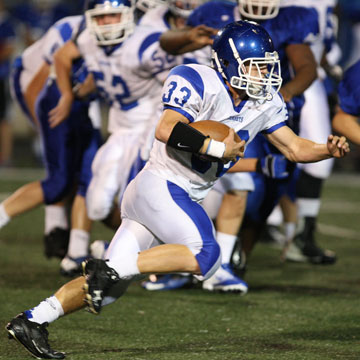 On a play typical of his night for the Bryant Hornets freshman team against the Conway White Wampus Kittens, Alpe got the call on a crucial fourth-and-1 early in the fourth quarter with the Hornets clinging to a 14-7 lead.
Head coach Kenny Horn had so much confidence in Alpe and the offensive line of Cameron Murray, Jacob Hall, Zach Jackson, Peyton Robertson and Brycen Waddle, he chose to go for it on that play from his own 33 yard line.
And the risk was rewarded. Though Alpe was hit by three or four Kittens, he willed himself past the yard marker for the first down. That run kept the Hornets' game-clinching 76-yard march alive as they improved to 4-1 on the season, 3-1 in Central Arkansas Junior High Conference play, with a 20-14 win at John McConnell Stadium.
Alpe wound up capping off that drive with an 11-yard gallop on which he broke five tackles. Earlier, he had scored from the 5.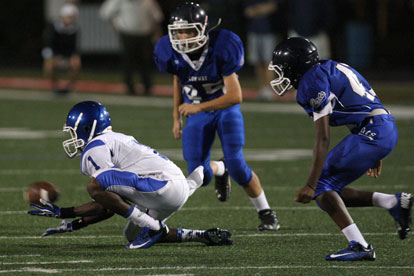 Quarterback Gunnar Burks combined with Alpe to rush for 183 yards. Burks, despite a couple of lost-yardage plays, wound up with 100 of that on 16 attempts. He also completed 5 of 9 passes for 108 yards and a touchdown. Pierce Finney grabbed the 28-yard TD toss on the last play of the first half.
The game was threatened by lightning and rain, which forced the postponement of the Bryant White eighth grade game earlier in the evening. That game will be made up on Monday. A pause in the storms allowed the freshman game to be played.
"We try not to run the quarterback a whole lot but we kind of had (Conway) in a spot with the two guys we had back there," Horn said after the game. "We thought we'd take advantage of it. We don't like running him but he's not bad on his feet. He can do a little bit of both and he did good tonight.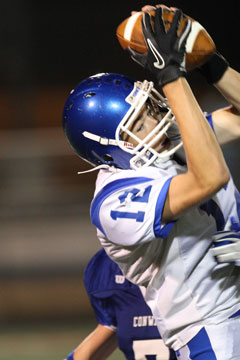 "Drew came in and he was determined," the coach continued. "We needed that tonight. That guy is just solid. He's a workhorse and we knew it. We knew we could keep riding him like that.
"The offensive line played extremely well again," he added. "We leaned on them. Those five guys and Alpe won it for us right there."
Meanwhile, the defense limited the Wampus Kittens to just 31 yards rushing. Quarterback Greyson Pinkett, however, had a good night with some impressive accuracy. He completed 13 of 16 throws for 163 yards and both of his team's touchdowns. He only threw one incomplete pass. Bryant's Evan Lee and Nick Hardin each had interceptions. Lee's pick set up the Hornets' clinching drive.
"We just allowed a couple of big plays here and there but I thought, overall, the defense played well," Horn commented. "I say it every week, if we can just hold up the big play every now and then, we're going to be okay."
Those big plays were Pinkett completions for 43, 40 and 26 yards, the latter two for touchdowns, both to Stephen Peters who made four catches for 100 yards.
Both teams had long drives come to naught in the first half. Bryant's opening march after forcing a three-and-out, started at the 35 and reached the Conway 8 where it stalled. The big plays were a 19-yard pass from Burks to running back Savonte Turner early in the drive, a 13-yard run by Burks then his 14-yard throw to Liam Miller that reached the 11.
In turn, Conway marched from its own 8 to the Bryant 18, keyed by the 43-yard throw from Pinkett to Matt Boley. On second down at the 18, however, the Hornets' Walker Brown, Austin Fason, Nick Gatlin and Austin Blacklaw met at the quarterback for an 8-yard sack. On third down, Blacklaw put on the pressure and, though, Pinkett was able to shovel the ball to running back Chris Cotton, the play lost 2 yards. The fourth-down pass was picked by Hardin at the 17.
With 3:33 left in the half, the Hornets started what turned into a 12-play, 83-yard scoring drive that featured the entrance of the hard-charging Alpe who contributed runs of 10 and 11 yards. Burks followed with an 18-yard strike to Miller but when the Hornets reached the 20, a holding penalty pushed them back with just :41 left. Burks was then dropped for a loss back to the 40.
Horn took his last timeout of the half and Burks' throw to Quinton Royal picked up 12 of the 25 yards needed for a first down. The Hornets quickly got to the line of scrimmage for a fourth-down play from the 28 and Burks found Finney down the seam for the touchdown with no time left on the clock.
A try for 2 failed but Bryant had a 6-0 lead.
Conway White snatched the advantage on the opening drive of the second half. After recovering an onside kick, the Kittens also got the points on a big fourth-down pass. Facing a fourth-and-6 from the Bryant 40, Pinkett tossed up a long pass that fell right into the arms of Peters who juggled the ball but hauled it in on the way into the end zone.
An extra point kick by Sam Freedle made it 7-6.
Back came the Hornets after Robertson smothered another Kittens' onside kick. With Burks faking to Alpe and keeping, Bryant moved into Conway territory. Alpe charged for 4 yards on a first down at the 42 and a personal foul against the Kittens pushed the drive to the 23.
Two plays later, Alpe bashed his way 22 yards to the 5 to set up his scoring run on the next play. He also ran in the 2-point conversion to make it 14-7.
Conway picked up a first down on the next series but faced a third-and-8 at the Bryant 47 when Pinkett tried to go deep again only to have Lee come up with the oskie at the 24.
After that initial first down on Alpe's dive from the 33, Burks kept for 14 yards. Two more runs by Alpe reached the 45 where Burks ran a keeper again. Conway got penetration but Burks circled around the oncoming defender and raced up the sideline for 23 yards.
On the next play he laced 11 yards to set up Alpe's tackle-breaking gallop for the touchdown with 3:01 left to play.
Pinkett led his team down the field for an answering score, completing all six of his passes, capped by the 26-yarder to Peters with :16.5 showing. Freedle added the extra point then tapped a final onside kick. But when Lee controlled the ball, the Kittens' hopes for any last-second heroics were dashed.
The Hornets return home for their next game, hosting North Little Rock.

JUNIOR HORNETS 20, WAMPUS KITTENS 14
Score by quarters
BRYANT 0 6 8 6 — 20
Conway White 0 0 7 7 — 14
Scoring summary
Second quarter
BRYANT — Finney 28 pass from Burks (pass failed), 0:00
Third quarter
CONWAY WHITE — Peters 40 pass from Pinkett (Freedle kick), 6:00
BRYANT — Alpe 5 run (Alpe run), 2:13
Fourth quarter
BRYANT — Alpe 11 run (kick failed), 3:01
CONWAY WHITE — Peters 26 pass from Pinkett (Freedle kick), 0:16.5
Team stats
Bryant Conway White
First downs 17 8
Rushes-yds 35-190 14-31
Passing 5-9-0 13-16-2
Passing yds 108 163
Punts-avg 0-00.0 1-36.0
Fumbles-lost 3-1 1-0
Penalties-yds 5-29 4-30
INDIVIDUAL STATS
Rushing: BRYANT, Burks 16-100, Alpe 14-83, Turner 5-7; CONWAY WHITE, Cotton 12-39, Pinkett 2-(-8).
Passing (C-A-I-Y): BRYANT, Burks 5-9-0-108; CONWAY WHITE, Pinkett 13-16-2-163.
Receiving: BRYANT, Miller 2-32, Finney 1-28, Turner 1-19, Royal 1-12; CONWAY WHITE, Peters 4-100, Boley 3-51, Crenshaw 2-15, Tollett 2-(-4), Huesmeier 1-3, Cotton 1-(-2).