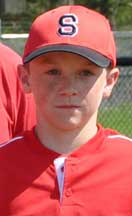 By Rob Patrick
The one night in the last week or so that the youth teams in the Bryant Athletic Association were able to get on the field at Bishop Park was marked by a game in which a perfect game was pitched.
Right-hander Dylan Hurt retired all 12 batters he faced in a four-inning, run-rule win for Sports Shop against C.T. Transport in Cal Ripken League action on Friday. Eight of the 12 outs in the 14-0 victory came on strikeouts. Three outs came on infield grounders including a tap back to Hurt on the mound. There was also a groundout to Diego Vargas at second to start the game and a fourth-inning groundout to Matthew Sandidge at shortstop, which[more] ended the game. The first out in the third inning was a pop to Brandon Hoover at first.
Sports Shop got the only run it would need in the first inning when Austin Kelly who had three hits, singled and advanced on a passed ball. Sandidge got a bunt down that not only got Kelly to third, it allowed him to sprint home.
Hurt drew a walk, stole second and scored on a single by Hoover to make it 2-0.
In the second, Dagen Carden drew a one-out walk and stole second. Ty Jackson reached on an error then walks were issued to Kelly ahd Hurt before Hoover and Brooks Ellis delivered runs with base hits, making it 6-0.
Austin Hooper started Sports Shop's third with a walk. He stole second and reached third on a sacrifice by Vargas. Carden singled him home then stole second too. A third-strike wild pitch allowed Tyler Ramsey to reach base, bringing up Kelly with runners at the corners. Ramsey swiped second then Kelly smacked a double to center to chase both runners home to make it 9-0.
Sports Shop scored five more runs in the top of the fourth. Hoover was hit by a pitch and Ellis reached on an error. Hooper singled in a run and took second on the throw to the plate. A double by Vargas brought Ellis home then Carden singled in Hooper. With two down, Kelly capped off the inning with a two-run triple leaving him a homer short of a cycle.
The only mystery that was left was whether Hurt to complete the perfecto. He started the bottom of the fourth with a flourish, fanning the first two he faced on called third strikes. His second pitch to the third batter was bounced to Sandidge who threw to first to conclude the contest.
Along with Kelly, Carden had three hits. Hoover added two.