Editor's note: This is a regular feature profiling senior athletes at Bryant High School.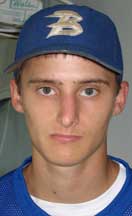 NAME: Evan Jobe
PARENTS: John and Kim Jobe
SIBLINGS: I have a sister that's a twin, Emily.
FAVORITE SUBJECT IN SCHOOL: Math
WHAT DO YOU LIKE TO DO IN YOUR SPARE TIME? Video games.
FAVORITE FOOD: Macaroni and cheese
FAVORITE MUSIC ARTIST OR GROUP: Li'l Wayne[more]
FAVORITE MOVIE: The Other Guys
FAVORITE TV SHOW: CSI
WHAT WAS YOUR FAVORITE TOY AS A KID? A baseball bat
WHAT ARE YOUR PLANS AFTER HIGH SCHOOL? To attend Monticello and major in accounting.
OTHER THAN YOUR PARENTS, WHO HAS HAD THE BIGGEST INFLUENCE ON YOUR LIFE? Jesus. He's the reason we're on this earth and that's who we live for every day.
FAVORITE THING ABOUT BASEBALL: Tracking down flyballs.
POSITION: Right fielder.
WHAT'S YOUR APPROACH IN THE FIELD AND AT THE PLATE? At the plate, I just try to get on base. If everybody got on base then we wouldn't need home runs and doubles. In the field, I just try to patrol the outfield.
WHAT DO YOU THINK OF THE SEASON SO FAR? It's going better than last year. We've got a better record and it's going great.
WHY IS IT GOING SO WELL? Probably the new stuff, our new hitting stuff that we're doing. It's really helped out a lot. My average is better than it was last year.
WHAT'S BEEN THE HIGHLIGHT TO THE SEASON SO FAR? The Florida tournament.
WHAT'S IT GOING TO TAKE FOR THE TEAM TO BE SUCCESSFUL THE REST OF THE SEASON? Keep working like we've been working, get the job done.
INDIVIDUALLY, WHAT ABOUT YOUR GAME ARE YOU MOST CONFIDENT ABOUT? My hitting. WHAT DO YOU WORK HARDEST TO IMPROVE? My mechanics on hitting.
AFTER YOU'RE THROUGH PLAYING BASEBALL AT BHS, WHAT DO YOU THINK YOU'LL REMEMBER MOST FONDLY ABOUT IT? The intensity of our practices.