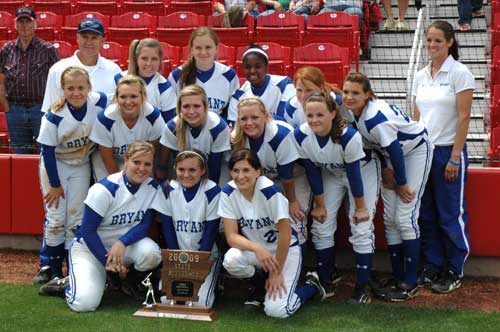 By Rob Patrick
After four years with her, Bryant Lady Hornets seniors Sarah Hart, Christen Kirchner and Paige Turpin had seen the end-of-the-year reactions of head softball coach Lisa Stanfield under some tough circumstances. As freshmen, the season had ended with a loss in the State championship game. As sophomores and juniors, the team finished a win or two away from getting another title chance.
This year, the Lady Hornets got back to the State final and, again, they were denied the crown.
Afterward, however, they noticed their coach was a much more emotional about the end. Sure, it was a third disappointment in the finals in her six years at Bryant and she and those three seniors had been through a lot together and it had to be tough to say it was over. But the team boasted plenty of talent for another title run including a splendid group of freshmen.
What they didn't know then, however, they learned at lunch on Monday: Saturday's Class 7A State championship game against North Little Rock was Stanfield's last as Lady Hornets head coach. She has resigned.[more]
"I wanted the girls to know that it wasn't anything that happened or was done, it's a decision was made before we ever had our first practice," Stanfield said in an interview Monday afternoon. "It's nothing to do with anything except my family. I'm at a point in my life where I want to consider growing my family and taking more time with my daughter and husband. It's hard to be a coach and do all that.
"I thought about it the year before but it was kind of difficult with the group I knew I had coming up," she added. "My husband and I agreed to push through one more year. So I've known all year and (athletic director) Coach (Tom) Farmer has known all year."
Ironically, Stanfield didn't come to Bryant to coach despite an outstanding high school and college career. She was hired as a special ed teacher and hopes to continue in that role.
"My name wasn't the same as it was in school so I didn't think anybody knew who I was," she recalled. "My daughter was just six months old so I didn't have any plans to coach. But Coach (Tom) Farmer (the Bryant athletic director) I guess found out and asked if I'd coach softball. He did a pretty good sales job."
And Stanfield did a pretty good coaching job. In six seasons, she compiled a record of 124-54-1. The team reached the State tournament each of the six seasons and only in the first year did they fail to advance beyond the first round. They were State runners-up three times and semifinalists twice.
Asked about the final game, she complemented the rival North Little Rock team and starting pitcher Jessica Sheldon, a Bryant nemesis for four years.
"She pitched a really good game," Stanfield observed. "That's the best I think I've seen her pitch in a long time."
Her team's lack of experience may have been a factor even though, she acknowledged, several of the players on the team had played in championship games on a state, regional and national level during the summer. There's just something about representing your school.
"I didn't think they were before the game but they sure did play tense," she allowed. "I guess you'd have to say they were a little bit uptight. That's how it appeared. It's a little bit different. I've played in national games too but I don't know what it is, it's something different. And, now, you can't beat having that experience with our freshmen having three more chances at it. I think they have a pretty good chance from here."
Someone else, however, will be leading them.
"The seniors said, 'Coach, you made me cry. I've never seen you cry before,'" Stanfield recalled of the post-game team meeting Saturday, "and that just kind of broke my heart a little bit more, you know?"
* * *
There are some other changes in the coaching positions at the high school. As has been noted, girls soccer and volleyball coach Doug Maxwell has resigned. Though he admitted he might be interested in continuing in one job or the other, replacements have been named. Assistant Beth Solomon has been named the head volleyball coach and Julie Long will take over as girls soccer coach.
* * *
The football team will also have a new coach after secondary coach and assistant track coach Kris Clark resigned to begin a private business. John Wells, already teaching on campus, will be or has been hired to take his place. Wells starred for Arkadelphia High School and the Henderson State Reddies and served a couple of years as film coach in the NFL.
Earlier in the school year, Brooks Coatney resigned as offensive coordinator and quarterback coach to become the head coach at Ozark High School. Dale Jones has moved from the freshman coaching staff to the high school staff in his stead with Elliott Jacobs joining the freshman staff.