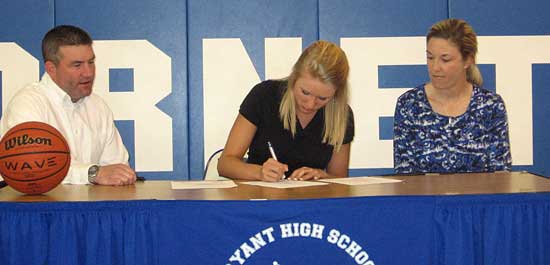 By Rob Patrick
Abbi Stearns, who contributed to three straight State Tournament teams as a member of the[more] Bryant Lady Hornets basketball team, committed to continuing her playing career and education at Central Baptist College in Conway today.
Stearns signed a letter of intent this morning at the Bryant High School gym with her parents, John and Julie Stearns, on hand along with Bryant head coach Blake Condley, CBC head coach Lyle Middleton, administrators and friends.
As the lone senior on the Lady Hornets' team this season, Stearns became the first player since the seniors of 2005 who played for three straight State tourney teams. She was a part of 61 wins over those three seasons.
An athletic 5-10 player, Stearns led the Lady Hornets in rebounding and blocked shots as a senior.
"They're getting one of the best rebounders that I've been around, somebody just having a knack for the ball, being able to find it," stated Condley. "It's natural things. It's not something you teach, it's not something you coach unless it was somebody that got hold of her long before she got to me. That's just something that all of her coaches have always said, in seventh grade, eighth grade. She just has a knack for the ball.
"She's probably — and I've heard other coaches say this — one of the best rebounders that have come through," he added. "I think she'll be able to step in at CBC and she'll compete to play next year. That's one of the things that Coach Middleton was so excited about and one of the things he was talking to Abbi about when he was recruiting her there. She'll have a chance to step on the floor next year and contribute. I think that's one of the things she's excited about."
Middleton had his sites on Stearns since the start of the season.
"I think he came to see me play in one our first games, against Sheridan," she recalled.
Still, nothing was certain even as the 2010-11 season concluded.
"I didn't really know I was going to play basketball (in college) until the end of the season," she allowed. "I wasn't really sure. But this is a good opportunity to have a scholarship to get school paid for."
And, she added, CBC appealed to her.
"I like that it's really small, it's just a small campus, and I'll know everybody that's there," she explained. "And everything's kind of close.
"I went and worked out with them a couple of Thursdays ago and just played a couple of pick-up games with the girls that are already there and I liked it," added Stearns, who expressed an interest in becoming a dental hygienist."
Middleton didn't hesitate to say what appealed to him about the Bryant senior.
"Her size," he stated. "That's just something you can't teach. You've got a kid that's 5-10, that's mobile, that's strong, can handle the ball, had mid-range shooting but also can rebound. Those are the qualities I saw. You know, when you look at kids out of high school, there's some raw things that we're really going to have to make a transition and develop for the pace of the college game."
Stearns recalled that Middleton had mentioned that along the recruiting trail.
"He said that I just need to work on the little things and getting faster," she said. "But he said he was excited to have me on the team."