CABOT — Mercedes Dillard's discus throw sailed 72 feet to earn a[more] fifth-place finish at an eighth grade track and field meet held Tuesday, April 5.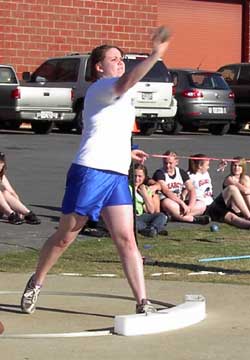 Dillard's finish highlighted the performance of the Bryant Blue Lady Hornets of Bethel Middle School at the meet, which featured junior high teams from several schools.
The Lady Hornets also picked up points from Nikki Clay in the hurdles. In the 100, she was sixth in a time of 18.16. In the 300, she was seventh in a time of 56.32.
In addition, the 3200 meter relay team of Caroline Cato, Carley Cato, Savannah McCrotty and Sarah Caporelli turned in a time of 12:05 to place eighth.
In the other relays, the Bryant Blue team of Hailey Squires, Carley Cato, Caroline Cato and Victoria McCaa finished the 4×400 in 5:15 while the quartet of Anna Stearns, Keilyn Lee, Dillard and Clay turned in a 1:00.73 clocking in the 4×100.
In the field events, Devin Hester threw the shot put 24-8; Bailey Ables covered 11-9, Dillard 11-5 and Stearns 12-0 in the long jump; and Stearns covered 24-11 in the triple jump.In the individual sprints, Dillard ran a 14.75 and Squires a 15.72 in the 100 while Ables turned in a 32.7 and Sterans a 31.08 in the 200.
Squires and Victoria Outlaw competed in the 400. Squires finished in 1:14 and Outlaw in 1:18.
In the distance events, Caroline Cato ran a 6:29 and Carley Cato a 7:05.63 in the 1600. In the 800, Caporelli turned in a 3:04 in the 800 with Alyssa Cordova clocking in at 3:12 and Alanna Cordova at 3:15.