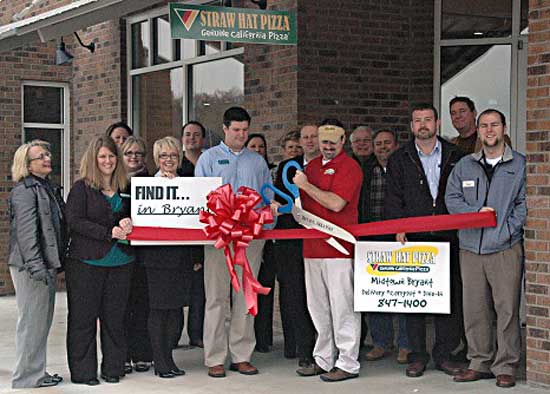 By Martin Couch
In the last few months since Straw Hat Pizza owner Dexter Heard opened his franchise restaurant in Midtowne Bryant, business has been good.
"We are a franchise from California," Heard said. "There are[more] 70 stores now and two years ago there were only 40. The nearest one to me was nearly 1,000 miles away, but Dallas signed up shortly after I did and they will open up next month."
Straw Hat Pizza began in 1959 in San Leandro near San Francisco. Straw Hat's California creation was unlike any other pizza. It was crisper and tastier, Heard said, with more unique offerings.
By 1969, Straw Hat had added a bountiful salad bar and was known as the Straw Hat Pizza Palace with locations up and down the California coast and throughout southern California.
In the '70's, Straw Hat introduced its Hot Hat stuffed sandwich. The business expanded nationwide in the 1980's.
"We make our dough fresh every day and actually roll it out to cut an hour before you eat it," Heard said. "The difference between a California pizza and one from Arkansas is that we use a cheese blend, whereas most around here use mozzarella. Our crust is not think like Pizza Hut or Dominoe's, it's more hand-tossed and has no grease at all."
Straw Hat's specialty pizzas are Lemon Pepper Chicken, Meat-e-or Pizza, Barbecue Chicken Pizza, California Veggie Pizza, Greek Master Pizza, Chicken Caesar Pizza, Straw Hat's Works Pizza, Chicken Bacon Ranch Pizza and Pizza Mexicali.
There is California-style salad bar as well as create-your-own pizza and sandwiches.