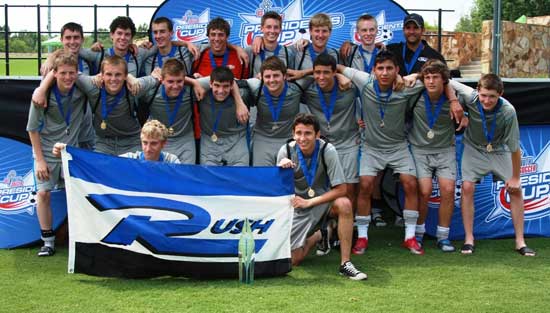 Bryant's Alex Rowlan and the Nike 94 boys' soccer team, representing the state of Arkansas and sponsored by[more] the Arkansas Rush Soccer Club, took top honors in the Under 17 boys' division of the U.S. Youth Soccer Region III President's Cup in Decatur, Ala., last week. The team will play in the U.S. Youth Soccer National President's Cup in Iowa in July. The win marks only the second time that an Arkansas team has represented the region in the national competition.
The Nike 94 Rush boys' team was one of eight teams from Arkansas that participated in the regional tournament June 9-12 after winning the U.S. Youth Soccer Arkansas President's Cup last fall. The boys faced President's Cup champions from Louisiana, Alabama, Florida and Tennessee en route to the final game against the Central Area Soccer League from North Carolina. The Arkansas Rush secured the top spot with a 1-0 win over a tough North Carolina team.
Team members include Rowlan, captains Michael Anthony of Conway and Jonathan Nevarez of Morrilton along with Sean Street and Richard Burke of Hot Springs; A.J. Smith of Mountain Home; Kyle Hendren, Ross Richesin, C.J. Thompson and Morgan May of Little Rock; Cody Magrath and Mathew Broadway of Maumelle; Jackson McNeil, Jackson McKinney and Matthew Brandon of Jonesboro; Seth Washispack and Keanu Frederic of Conway; and Adolfo Rodriguez of Morrilton.
"The goal in the final [game] represented everything these boys accomplished over the weekend — teamwork and work rate," said Matt Mittelstaedt, head coach for the Nike 94B.
The goal came 30 seconds into injury time of the first half with the Rush applying pressure in the attacking third causing a turnover. The team then worked to string together five passes that covered the width of the field. Brockway finished a brilliant cross from Hendren to give the team the only goal they would need to secure the victory.
The Nike 94 Rush boys' team, headquartered in Conway, is comprised of 18 players from eight different cities across the state. The team is currently in training for the National Presidents Cup scheduled for July 7-10 in Des Moines, Iowa, where they will be one of four U17 boys' teams representing the four regions of the US Youth Soccer program competing for first place in the National Presidents Cup.