Photos by Kevin Nagle
Hayden Knowles and Beaux Bonvillian combined on a four-inning no-hitter and everybody got into the[more] act offensively as the Bryant All-Stars breezed to a 20-1 win over the Lonoke All-Stars at the Cal Ripken 12-year-old State Tournament at Bishop Park on Saturday.
It was the opener for Bryant which advanced to play Monticello today at 12:30 p.m.
The Bryant 12's (50/70) include Logan Allen, Beaux Bonvillian, Drew Brown, Cameron Coleman, Jake East, Jeffery Hastings, Dylan Hurt, D.J. McKinney, Austin Kelly, Hayden Knowles, Preston Kyzer, Garrett Misenheimer, Aaron Orender, Matthew Sandidge and Scott Schmidt. Darren Hurt is the manager with assistance from Rick Brown and Randy Kelly.
Lonoke's lone run came in the fourth on a hit batsman, two stolen bases and an error. The Bryant pitchers and defense allowed just three base-runners, two hit batsmen and a walk. Eight of the 12 outs in the four frames came on strikes
Bryant scored 10 runs in the first and 10 more in the second.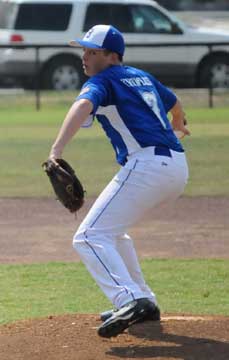 The opening blitz started with a walk to East who advanced on a passed ball, took third on a single by Allen and scored on another passed ball. Misenheimer walked then Knowles singled before the first out was recorded.
Kelly lashed a double then Schmidt singled. Kyzer hit a grounder to second but the attempt at a force resulted in an error and both runners were safe.
Orender drew a walk then East and Misenheimer cracked doubles. Knowles singled again to drive in Misenheimer with the 10th run.
In the second, Kelly singled and advanced on an error. Hastings reached on a fielders choice and, with one out, Orender stroked a single to start a parade of hits. Coleman, McKinney, Misenheimer and Knowles followed with hits.
Hurt drew a walk then, with two down, Hastings, Brown and Orender reached base. Coleman was hit by a pitch and McKinney drew a walk to force in the last two runs.