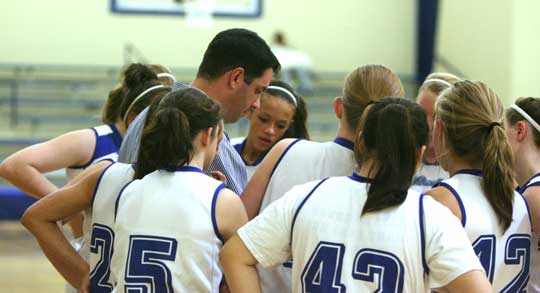 By Rob Patrick
In the first 1:01 of their game in the second round of the Bryant Invitational Tournament, the Texarkana Lady Razorbacks freshman team took a 4-0 lead over the Bryant Lady Hornets.
That and head coach Eric Andrews, who called an immediate timeout, got the Lady Hornets' attention.
Texarkana didn't score again until there were 47 seconds left in the half.
How's that for responding?[more]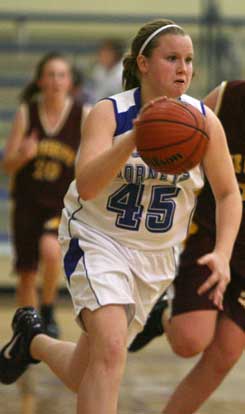 Even after that drought-ending basket, Texarkana went the entire third quarter and almost four minutes of the fourth before scoring again.
Bryant blew out to a 25-4 lead that was up to 49-6 at one point on the way to a 52-12 blowout of the over-matched Lady Backs.
The Lady Hornets improved to 4-0 on the season and, in all four games, everyone has played. They advanced to the championship game of the Bryant Invitational Tournament on Thursday at 7:15 p.m., when they'll take on North Little Rock.
A night after forcing Lake Hamilton into 33 turnovers, the Lady Hornets, despite pulling back on its press, forced another 23 through the first three quarters against Texarkana. Though she played less than three quarters, McKenzie Adams followed up a game in which she'd made 10 steals with seven to go with 17 points and five rebounds. Logan Davis added 12 points and made five steals, Courtney Davidson had 8 points and three thefts pluse a game-high six rebounds.
Yes, unlike Monday night, the Lady Hornets also out-rebounded their opponent, 29-21, which produced nearly double the shot attempts.
Trailing 4-0, the Lady Hornets got on the board with a driving jumper by Davidson. Adams' first steal led to a trip to the free-throw line for Davidson, who converted twice to tie the game.
Moments later, she converted twice again and Bryant had the lead for good.
Adams' steal and layup made it 8-4, Kiara Moore drove for a layup and, after a Davidson steal, Adams buried a 3 to make it 13-4 at the end of the first quarter.
Davis made three steals early in the second quarter, turning two of them into layups. Adams added a free throw and Whitney Myer grabbed an offensive rebound and added to the lead. When Carley Yazza hit a short jumper with 1:10 left in the half, the margin was 25-4.
A steal and a three-point play by Adams, another steal and a pair of free throws bumped the margin to 29-6 early in the third quarter and the Lady Hornets continued to roll.
Late in the period, Lauren Buck contributed 6 points in the post and along the baseline. Her baseline jumper to beat the buzzer ending the third quarter made it 49-6.
Yazza had a basket and Hayley Murphy hit a free throw for the only Bryant points in the fourth quarter.