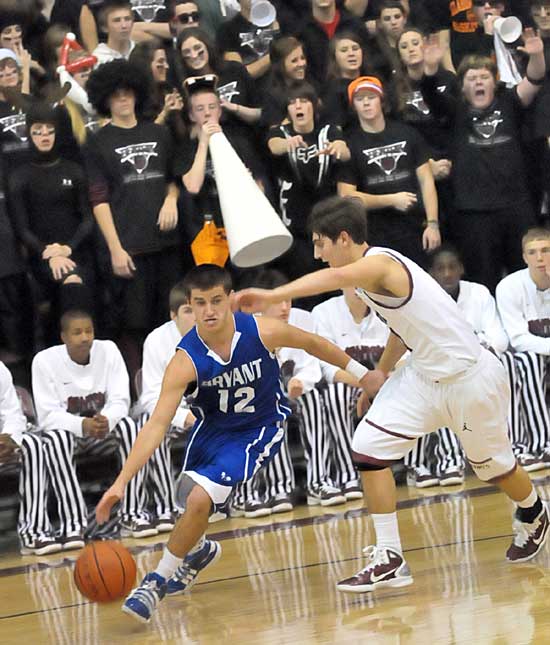 By Rob Patrick
Photos by Kevin Nagle
BENTON — The Bryant Hornets came into Friday night's game at Benton Panther Arena hoping[more] that the third time would be the proverbial charm.
But when the Panthers held them to just 2 points in the third quarter, a tie game turned into a 10-point Benton lead. Though the Hornets tried to rally in the fourth quarter, missed free throws undermined their effort. Benton made the Hornets chase over the final 2:35 and wound up extending the margin to the final of 43-29.
The Panthers have now defeated the Hornets in Bryant, on a neutral floor in Searcy (in the closest game between the two teams, 50-47) and on their home floor.
"They beat us three times so, clearly, they're better than us," stated Hornets head coach Mike Abrahamson. "Give credit to them. They did a great job."
The veteran Panthers returned six seniors and four starters from a team that went 9-18 last season and missed the Class 6A State Tournament. The Hornets were 9-19 last season and missed out on the Class 7A State tourney, but only return two players that saw much varsity playing time a season ago, both off the bench.
Experience shows sometimes.
"Obviously, we couldn't score," Abrahamson acknowledged. "You've got to give Benton credit for that. They took us out of doing what we wanted to do, did a good job of taking Jordan (Griffin) out of the game and Brantley (Cozart) out of the game.
"Some of the other guys that we have that I feel confidant in, to step up the scoring load, Quinton Motto and Houston Garner, they got into foul trouble," he noted. "And they missed their first couple of shots. I thought they had great looks for what we want, where I know they can make a shot and they know they can make a shot. They just weren't falling. We just couldn't get anything going.
"We've got to continue to get better individually so, if that happens to us again, some other guys are ready to step up," he concluded.
Cozart still managed 9 points which is close to his average, but Griffin was held to just 2, well below his. Garner finished with 6 points before fouling out. Aaron Bell had 6 while Kyle Nossaman and Leon Neale each had 2. Motto finished with 2, as well, but he didn't finish the game after getting the worst of a collision during the game and hitting his head on the floor.
Senior Trey Davis of Benton was the lone player in double figures with 12 points.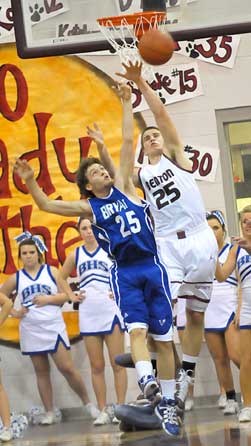 The Panthers took the early lead, 4-0, including a dunk by Eddie Poland but Griffin's only basket followed on one of his patented drive-pull-up-and-pop moves. Moments later, Cozart made a steal, drove for a layup despite a foul to tie it. Garner added a 3-pointer to the run and the Hornets led 7-4.
But they were unable to add to their total over the final 3:50 of the quarter and Benton rallied for a 10-7 edge going into the second period. A 3-pointer by Tyler Gattin in the final minute produced the advantage for the Panthers.
The Hornets were limited to just one field goal in the second quarter but they went 6-of-6 at the line. After Graham Gardner added to Benton's lead early in the period, the Hornets surged into the lead on the strength of its defense. Kyle Nossaman and Cozart contributed free throws to cut the margin to 12-11 and when Motto canned a jumper at the 3:04 mark, it put Bryant up 13-12.
Luke Vance tied it with a free throw. He would later add a basket inside before Cozart converted twice at the line in the final minute to knot it up at 15 at the intermission.
When play resumed, however, the Panthers went on their 12-2 third-quarter run interrupted only by Aaron Bell's driving jumper that had the Hornets within 19-17 with 3:13 left in the period.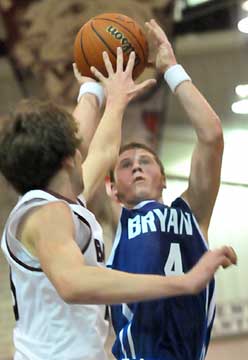 Davis corded back-to-back shots then Thaddeus Caffrey hit the offensive glass for a basket. Poland made a steal and, with :05.4 left in the quarter, Nick Garner connected on a pair from the line to make it 27-17.
The lead was 33-22 with 4:14 left in the game. Cozart trimmed that with a triple then the Hornets forced consecutive turnovers. Both led to trips to the free-throw line for Bryant. Eric Moore came up empty with 3:22 to go then Griffin, who came into the game on a hot streak at the line, missed the front end of a one-and-one.
After a timeout with 2:35 left to play, Benton spread the floor and the Hornets were forced to chase. The Panthers finished on a 10-4 run that included 6 of 13 at the line.
It was Benton's 21st win in the last 27 meetings between the two teams since 2000.
The Hornets drop to 2-8 but, had they beaten their rival all three times instead of losing all three, they'd be 5-5.
They'll try to get back on track at the annual Summit Bank Spa City Shootout in Hot Springs on Tuesday, Dec. 28, at 11:30 a.m. They'll be facing the Texarkana, Texas, Longhorns, a team that just happens to be coached by one of the sons of Bryant assistant coach Jim Pennington. Hot Springs, a team coached by another of Pennington's sons, is also in the tournament and could meet the Hornets in the second round.
PANTHERS 43, HORNETS 29
Score by quarters
BRYANT 7 8 2 12 — 29
Benton 10 5 12 16 — 43
HORNETS 29
Player fg-fga ft-fta reb fls pts
o-d-t
J.Griffin 1-7 0-1 0-2 2 1 2
Cozart 2-5 4-5 0-2 2 4 9
Nossaman 0-3 2-2 0-1 1 3 2
H.Garner 2-5 0-0 0-2 2 5 6
Motto 1-7 0-0 0-3 3 3 2
Moore 0-2 0-2 1-1 2 4 0
Bell 2-7 2-2 1-0 1 1 6
Neale 1-2 0-0 0-2 2 3 2
Cambron 0-1 0-0 0-1 1 0 0
Team 2-4 6
Totals 9-39 8-12 4-18 22 24 29
PANTHERS 43
Player fg-fga ft-fta reb fls pts
o-d-t
N.Griffin 1-5 4-9 0-1 1 2 6
Gattin 1-4 0-0 0-0 0 5 3
Davis 4-9 4-4 0-4 4 2 12
Vance 3-4 1-2 2-8 10 3 7
Poland 2-6 2-6 2-6 8 1 7
Gardner 1-3 1-3 1-4 5 1 3
Simmons 0-0 0-0 0-0 0 0 0
N.Garner 0-1 3-4 3-2 5 3 3
Caffrey 1-4 0-0 1-0 1 0 2
Team 1-4 5
Totals 13-36 15-28 10-29 39 17 43
Three-point field goals: Bryant 3-17 (H.Garner 2-5, Cozart 1-3, J.Griffin 0-3, Nossaman 0-2, Bell 0-2, Motto 0-1, Neale 0-1), Benton 2-8 (Gattin 1-4, Poland 1-3, N.Griffin 0-1). Turnovers: Bryant 18, Benton 18.