Hornets notch a pair of wins
EDITOR'S NOTE: In this time of COVID-19, with no sports action, BryantDaily.com will be posting past stories of Bryant athletics either posted on BryantDaily.com (from 2009 to the present) or published in the Bryant Times (from 1998 to 2008).
The Bryant Hornets soccer team earned its first two victories of the season, beating the Pine Bluff Zebras at home, 6-1, on Monday, March 31, and on the road on Thursday, April 3, 5-2.
In between, the Hornets and the Lady Hornets took on the stout teams from Little Rock Catholic and Mount St. Mary's Academy at War Memorial Stadium. The Hornets fell to the Rockets 6-1 while the Lady Hornets played to a scoreless tie through the first half before the Belles scored three times in the late going to earn a 3-0 win.
The teams were scheduled to travel to North Little Rock on Monday, April 7, and to Russellville on Tuesday, April 8, for make-up games in the 7A-Central Conference. They'll be back at home on Thursday, April 10, against Conway.
In the first win over Pine Bluff, Austin Bradley and Nathan Patel each scored two goals for the Hornets. Jon Lowery and Sean Sobba added a goal apiece.
"We played good for having a week off (with spring break)," said Hornets coach Kenny Horn. "And we've only played four of the first eight game days. We are a little behind everyone else because of the weather.
"It took a little bit for the boys to get going but they did," he added. "As always, Carlton Norris and Aaron Miller played very well. They lead us with their play. They're two tough competitors. They compete for every ball and fly around."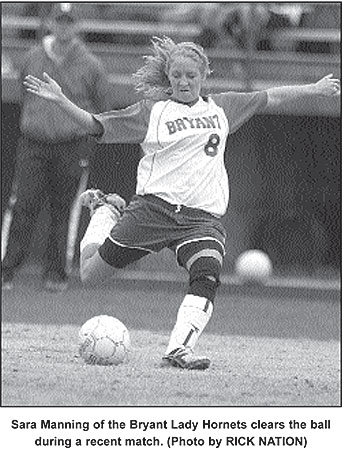 Bradley again had two goals and Miller two in the second win over Pine Bluff. Sobba added a goal as well.
"We got ahead pretty quick on a penalty kick," Horn recounted. "They got a corner kick and I don't know how it went in because it went off two of our kids and bounced off our goalie, right off his chest, and went in from there."
But the Hornets rallied for two goals after that and led 3-1 at the half. Before it was over, everybody got to play for Bryant.
"That's three pretty good games for us in the last four," Horn noted. "So maybe we can carry it on to the ranked teams in our conference."