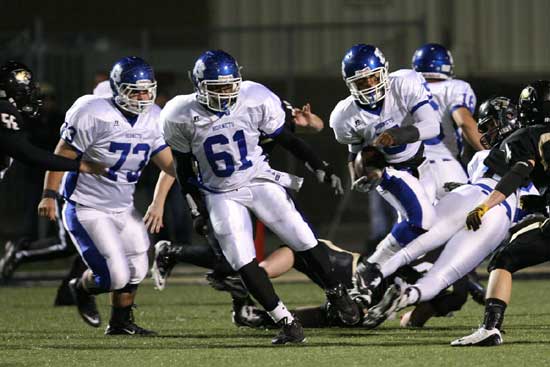 By Rob Patrick
Photos by Rick Nation
BENTONVILLE — The Bryant Hornets never quite got their feet under them Friday night.
Fresh from a week off and fired up to be back in action, the undefeated Bentonville Tigers[more] set the tone with their defense, gained good field position and took advantage of it to roll up a 17-0 lead on its first three possessions.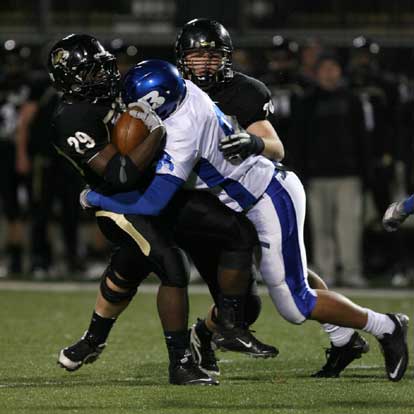 It wasn't until after that, that the Hornets managed their initial first down on a flea-flicker. Bentonville squelched that drive, however, and went on to score again before the half was through, added two more touchdowns on their first two series in the second half on their way to a 38-7 win that ended Bryant's 9-3 season.
The Hornets had overcome plenty of adversity during the season but the top-ranked Tigers handed them too full a plate on Friday.
Bryant didn't get on the board until the "sportsmanship rule" was in effect. Senior Stephen Clark's 2-yard TD run came with 8:17 left in the game after Bentonville's juggernaut had already piled up all of theirs.
It was a sobering finish for over 30 seniors who had been a part of 25 wins over their three seasons at BHS.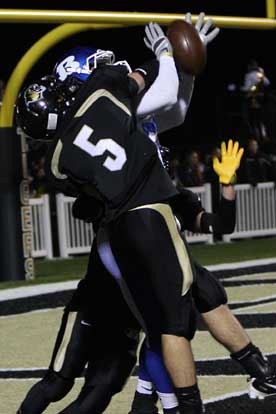 After "shocking the world" in October with a double overtime win over previously unbeaten Conway, the Hornets had hopes of sending out even bigger shock waves Friday night.
But, after watching the opening kickoff sail into the end zone for a touchback, they were unable to get anything going. On fourth-and-10 from the 20 (where they'd started), the Hornets Tanner Tolbert punted the Tigers back to their own 36.
Bentonville ran five plays, every other one a pass play and all of those completed. Dallas Hardison, a junior, finished the night with an efficient 14 of 19 performance for 174 yards and three touchdowns.
Those numbers weren't up to his usual standards this season, but three of the Tigers' five scoring drives started in Bryant territory.
After another kick for a touchback, the Hornets offense was again stymied without netting a single yard in three plays.
This time, Tolbert's kick was fielded at the Bentonville 40 and returned by Mason Snow to the Bryant 36.
The Hornets' defense stepped up. Josh Hampton dropped Tearis Wallace for a loss on first down. Hardison completed a pair of short passes to the 22 where, for the only time all night, Hardison threw consecutive incompletions.
That forced Chad Levin to come on and kick a field goal from 39 yards out.
In turn, the Hornets ran one play and lost a yard then Lessenberry's throw on a deep out was intercepted by Bentonville's John Hembry. Once again, the Tigers started on the Hornets' end, this time from the 34. On the third play of the possession, Wallace broke a run that covered 19 yards to the end zone. Levin made it 17-0 with his extra point.
The play that garnered Bryant's initial first down came on a third and 7. Running back Karon Dismuke took the snap and pitched it back to Lessenberry on his way around on a reverse. Though none of the Tigers appeared to be fooled on the play, Nichols came back through a pair of defenders to make the grab for a 35-yard gain to the Tigers' 39.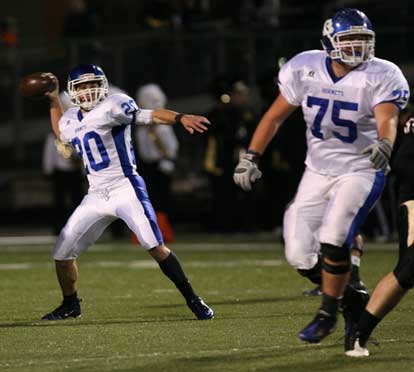 Two plays later, the Hornets faced a third-and-10 at the 39. They employed another flea-fiicker. This time, Josh Hampton, playing a wingback took a handoff around the right side. But he stopped short and tossed a lateral back to Lessenberry who fired deep to Clark out of the backfield. He tried to come back for the slightly underthrown ball only to be prevented by a pair of Tigers' defenders. What might've been a touchdown or a first down via pass interference penalty, wound up setting up another Tolbert punt.
He boomed one this time and Bentonville was stuck with its worst field position of the game at its own 19. What followed was a deflating (for Bryant), 17-play, 81-yard touchdown march to make it 24-0.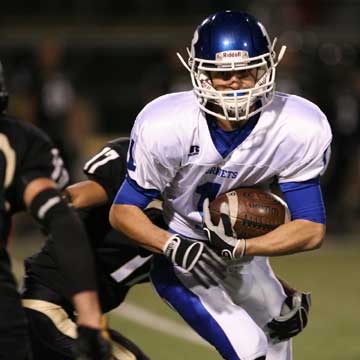 The Hornets used the last 4:44 of the half driving from their own 22 to nearly midfield. The key play was a screen pass to Clark that he turned into a 16-yard completion and a new set of downs. Lessenberry hit Clark for 6 yards then completed a 3-yard pass to Steven Lecamu who made it first reception of the season after being moved to tight end from one of the guard spots earlier this season.
With time running out, however, the Hornets had some confusion as players substituted. Twice they broke the huddle with 12 players, resulting in a pair of 5-yard penalties that undermined the drive. Tolbert punted the ball away on a fourth-and-17 from their own 41. The punt sailed 69 yards into the end zone and, with Hardison taking a knee, the half was over.
The Hornets tried an onside kick to start the second half and, at one point, appeared to have it recovered inside the Bentonville 30. But it was ruled that a Bryant player had touched the ball before it went the necessary 10 yards.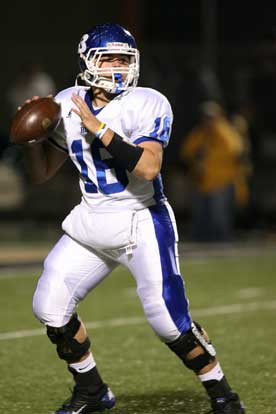 Bentonville thus got tremendous field position again at the Bryant 49. Hardison hit Smith for 15 yards and, a play later, fired a perfectly thrown ball to Austin Molitor for a 32-yard touchdown that made it 31-0 less than a minute into the second half.
Sticking with their ground game and aided by a face mask mark-off of 15 yards, the Hornets drove to the Bentonville 28 where, on fourth-and-5, sophomore Jalen Bell reached the corner only to be run out of bounds short of the first down by less than a yard.
Bentonville put the finishing touches on its scoring with a 76-yard drive capped by a 1-yard run by Garrett Kaufman. Levin kicked it to 38-0 and the mercy rule was in effect.
With the Tigers working in reserves, the Hornets drove 73 yards in 12 plays to break the shutout. The drive featured Bell, Dylan Pritchett and Jacob Powell in the running game but it was keyed by a fake punt in which Tolbert sprinted for a first down at the Bentonville 39.
Nichols hauled in a 9-yard pass then Powell powered for 10 yards to the 20. An 11-yard run by Dismuke and a 7-yard pick-up by Clark reached the 4. A personal foul penalty made it first-and-goal at the 2. Clark scored on the next play.
BENTONVILLE 38, BRYANT 7
Score by quarters
BRYANT 0 0 0 7 — 7
Bentonville 17 7 14 0 — 38
Scoring summary
First quarter
BENTONVILLE — Molitor 17 pass from Hardison (Levin kick), 8:37
BENTONVILLE — Levin 39 field goal, 5:30
BENTONVILLE — Wallace 19 run (Levin kick), 3:30
Second quarter
BENTONVILLE — Smith 9 pass from Hardison (Levin kick), 4:47
Third quarter
BENTONVILLE — Molitor 32 pass from Hardison (Levin kick), 11:35
BENTONVILLE — Kaufman 1 run (Levin kick), 3:20
Fourth quarter
BRYANT — Clark 2 run (Denker kick), 8:17
Team stats
BRYANT Bentonville
First downs 10 18
Rushes-yds 34-119 30-138
Passing 5-12-1 14-19-0
Passing yds 69 174
Punts-avg. 4-43.3 1-46.0
Fumbles-lost 1-0 1-0
Penalties-yds 4-30 4-27
INDIVIDUAL STATS
Rushing: BRYANT, Dismuke 10-40, J.Bell 7-39, Clark 8-23, Powell 2-13, Tolbert 1-12, Pritchett 1-3, Lessenberry 5-(-11); BENTONVILLE, Wallace 12-84, Kaufman 10-39, Murphy 2-8, Hernandez 3-8, Haridson 2-2, Edwards 1-(-3).
Passing (C-A-I-Y): BRYANT, Lessenberry 5-11-1-69, Tolbert 0-1-0-0; BENTONVILLE, Hardison 14-19-0-174.
Receiving: BRYANT, Nichols 2-44, Clark 2-22, Lecamu 1-3; BENTONVILLE, Molitor 5-75, Smith 4-48, Wallace 2-40, Kaufman 1-6, Youngblood 1-5, Edwards 1-0.