Photos by Rick Nation
The Benton Panthers freshman team used a 26-8 run through the second and third quarters to surge to the championship[more] of the Bryant Invitational Tournament with a 38-21 win over the hosting Bryant Hornets freshman team.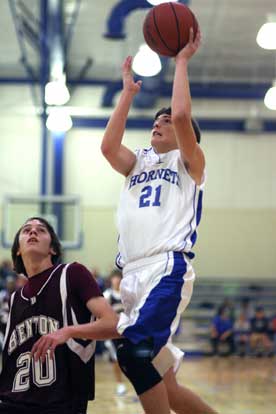 It was the first loss of the season for the Hornets who will try to avenge it on Monday, Nov. 22, when the Panthers make a return trip for a regular-season game.
The Bryant team includes Phillip Barnett, Dakota Besancon, Chase Christie, Brandon Cranford, Cedarrian Crosby, Evan Davis, Trevor Ezell, Greyson Giles, T.J. Hall, Austin Hammonds, Hunter Holder, Matt Jernigan, Spencer Kilgore, Slade Lewis, Madre London, Dylan Masters, Davis Nossaman, Gray Orman, Garrett Phillips, C.J. Rainey, Brian Reed, Mitchell Scoggins, Caleb Strain and Christian Washington.
The Hornets held a 7-6 lead after a quarter before Benton began its push, sparked by full-court pressure.
"We did not play very well," stated Hornets coach Steve Wilson. "We did not execute our press offense. We had people going to the wrong spots and doing their own thing."
Benton had forged an 18-11 lead by halftime. It was 32-15 going into the fourth quarter.
Christie and Scoggins paced the Hornets with 4 points each. Giles and Holder added 3 apiece. Ezell, Rainey and London finished with 2 each and Kilgore hit a free throw.