For more photos of this event by Rick Nation, go here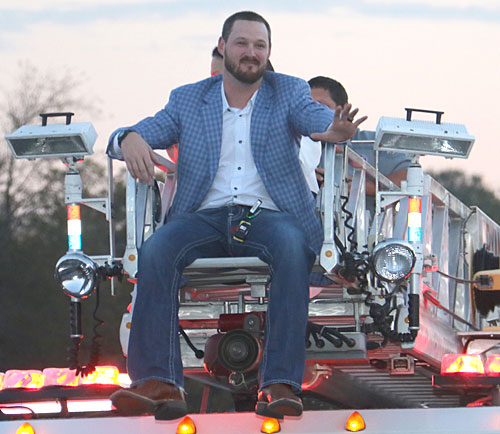 Bryant High School alum Travis Wood, who helped the Chicago Cubs win a World Series for the first time since 1908, was honored by the city of Bryant, Saline County and the state of Arkansas at a Welcome Home Celebration Friday night.
The evening started with a parade from Ashley Park where Wood played as a youngster. It continued upon the arrival of the parade at Bryant Stadium prior to the Hornets' playoff game against the Springdale Bulldogs.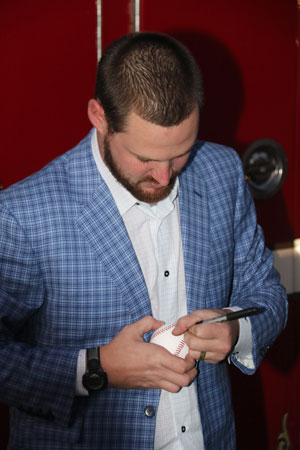 After a press conference, Wood and his family were honored on the field by state, county and local officials. Gov. Asa Hutchinson presented him with a proclamation making Nov. 11 Travis Wood Day in the state. Representatives of the State Senate and House of Representatives had citations to give to him. In addition, Bryant Mayor Jill Dabbs and representatives of the city council announced that a street in Bryant would be named after Wood. T. Wood Way will be adjacent to the ballpark.
In addition, members of the board of the Bryant Athletic Hall of Honor presented him with a plaque for being voted to the Hall as part of the inaugural class in 2015.
Graciously posing for pictures and signing autographs, Wood wrapped up the evening with a few remarks of gratitude.
Wood graduated from Bryant High School in 2005, starring on the mound and at the plate for the first Hornets baseball team to reach the State championship game. He was accompanied by his wife Brittany, their young children Zander and Everly, his parents Jay and Dena Wood, other relatives and his coaches while at Bryant, Terry Harper, Tic Harrison and Craig Harrison.