Tonight's football game between the Bryant Hornets and the Bentonville West Wolverines will be streaming live athttps://www.youtube.com/user/mjohnsonproductions/live or https://mmproductions.net/mm-productions-live-streaming/ or the Bryant athletic webpage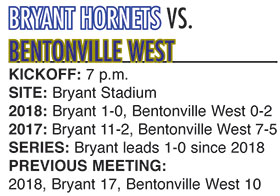 Few may remember that, in the 2018 Class 7A State playoffs, the last 7A-West Conference team standing was not Fayetteville or Bentonville or Springdale Har-Ber. It was, in fact, the Bentonville West Wolverines, who made it to the semifinals before getting knocked out by the North Little Rock Charging Wildcats. Of course, the Charging Wildcats returned to the State finals for the third year in a row only to fall to the Bryant Hornets, who won their first State title in football.
Along the way, the Hornets traveled to West and, despite the fact that the Wolverines had key players out with injury including a senior quarterback, they gave Bryant all they wanted before losing the hard-fought duel, 17-10.
A lot of the guys that played in that game are back for both teams. In fact, the Wolverines are led offensively by quarterback Dalton McDonald who started against Bryant as a sophomore and completed 16 of 37 passes for 182 yards. Also returning are a trio of offensive linemen, A.J. Smith, Ben Gann and Zack Trammell, who will be trying to produce more than the 28 yards on the ground that the Wolverines mustered in 2018 against the Hornets.
The defense is led by linebackers Nick Whitlatch and Jonas Higson, who double as running backs as well.
"We're fixing to play a team that, I feel like, is better than what they were last year," said Bryant head coach Buck James. "They're better at what they do. Overall, they may not have the athlete at quarterback or receiver that they had last year but we didn't see them anyway. We saw the guys that are going to be starting tonight.
"And we thought they were pretty good," he continued. They played us tough and I think they're better. They understand the scheme better. I think their coaches understand what their kids do. They're a good football team and definitely one that our team can't overlook, for sure."
The Hornets travel to Fayetteville next week, which accounted for one of their two losses in 2018.
The Wolverines, however, started the season with a 47-34 loss to Oklahoma powerhouse, Owasso, after leading much of the game. Owasso came back the next week to pound Fayetteville, 51-19. Bentonville West laced Fort Smith Southside, 37-13.
"They played Owasso very, very close," James acknowledged. "From everything I've heard, (West) just fatigued. They're a team that's going to win a lot of football games this year.
"I think Coach (Bryan) Pratt does a heck of a job," he added. "He's a very good ball coach. They've got Coach (Dave) Wheeler in there now helping their defense. He was at Fayetteville last year. I think they've got a good coaching staff, a good plan the way they want to run their program.
"I would say when this is all over, this is going to be a good football team," the coach asserted. "They've got a lot of guys both ways. They have some depth issues. But when they get all of that straightened out, the weather cools off, they'll be a good football team."
That may be a factor again tonight. It's expected to be about 85 degrees at game time with a heat index of 90."
"Conditioning will definitely be a factor especially for those guys that go both ways," James allowed. "I don't know if we've got many guys on our team that could go both ways at a high level. I think we could play Ahmad until Christmas day. He doesn't seem to get tired. But he got tired last week.
"This heat has something to do with that," he acknowledged. "We have some places where we're shallow, where our depth hasn't stepped up. But I thought we made some strides in our JV game (on Monday in a 56-7 win at Catholic). We're getting better. We've just got to have guys do it on Fridays."
Reflecting on the 42-14 win over Benton in the Salt Bowl two weeks ago, James said, "Our kids were ready. I thought they played extremely well. I thought they played hard. And, you know, I feel good about what we were able to accomplish.
"Then, we're sitting there waiting for another two weeks to play," he mentioned. "It's a double-edged sword. But I would rather have it that way than having to turn around and play again the next week.
"I was really surprised that our offensive and defensive lines played as well as they did," the coach asserted, assessing two areas of concern entering the season. "That was a welcome development. We still have a lot of room to grow. We've got to do some things to help ourselves, with depth. We've got to have guys that keep playing and doing their job at a very high level.
"We've got to have guys that improve," he continued. "I want to see as much improvement from week one to week two as we did from spring football to our first ballgame. We should get that but, last year, I didn't think we played very well week two and those guys just about beat us up there."
Against the Panthers, the Hornets accumulated 490 yards of offense with reserves playing most of the second half. And defensively, they allowed just 129 yards rushing and 96 yards passing, a chunk of that after the mercy rule was in effect.
Junior quarterback Austin Ledbetter played just one series in the second half and finished with 326 yards passing and three touchdowns. Adams rushed for 85 yards and three scores in the same time frame. Senior Tre'vun Herron caught four passes for 112 yards in just the first half. Hayden Schrader and Jake Meaders had four receptions as well.
Defensively, the Hornets' veteran linebacks shone. Tristan Sehika was in on eight tackles, Daylon Land and Catrell Walace six each. Rodricho Martin and Kennedy Miller each had a sack, while Darrick Rose and Austin Schroeder had two pass break-ups apiece.
"I want us to play better than we did (against Benton)," James stated. "That's our goal. I want our goal to be that we get better every week. Even if it's a good team, I think it's got to be a situation where we play — we play hard every game — but play hard longer. That's the difference in when you play good football teams than when you play teams that are not so good."