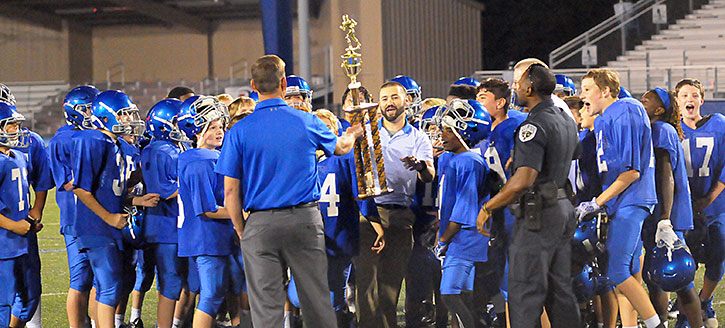 For more photos of this event by Kevin Nagle, go here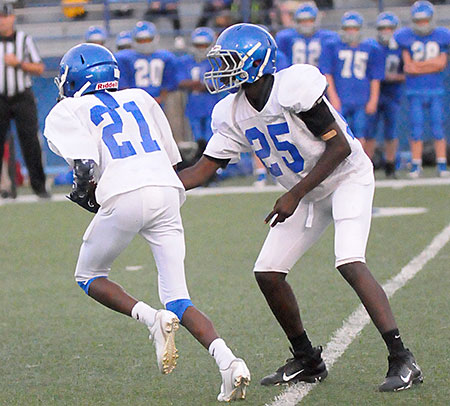 Second-half defensive stands before and after they scored to take the lead helped the Bryant Blue Hornets seventh grade team of Bethel Middle School fend off the Bryant White Hornets of Bryant Middle School in the annual Hornet Bowl Monday night at Bryant Stadium.
Trailing 6-0, the Blue Hornets' defense held on a fourth-and-3 at the 6 as Bryant White was in position for a clinching touchdown. The Blue offense then drove 95 yards in 12 plays to tie it. Jaysean Robinson, who rushed for 141 yards on 14 carries in the game, scored from 3 yards out with 4:37 left to play. On a sweep, Robinson got to the corner for the two-point conversion which proved to be the difference in the game.
But Bryant White, behind the running of quarterback Nick Baker, came roaring down the field in response. They reached the Blue 12-yard-line with time running out. A pair of Baker passes fell incomplete and, on the last play of the game, Blue's J.T. Allen dropped Baker for a loss.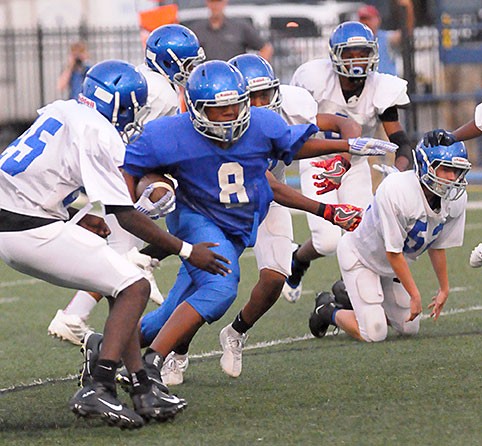 "It was a very good, hard-fought game by two really good football teams," said White head coach Andrew Jenkins. ". It all came down to the two-point conversion and we weren't able to stop them. But I'm very proud of my boys."
"They've got some athletes over there that are well-coached," said Blue head coach Colton Bond. "Hats off to Coach Jenkins and Coach (Reid) Prescott because they made us do some things that put us in some uncomfortable spots, but we ended up getting it done."
For the final drive, Bond used a wildcat formation with Allen, one of his running backs, taking the snap. Robinson, playing on a wing, would go in motion and Allen would either hand it to him or keep it up the middle.
"I didn't know how good their studs were going to be until we got on the field," Bond said. "They are fast and physical. It forced us to do a few unorthodox things.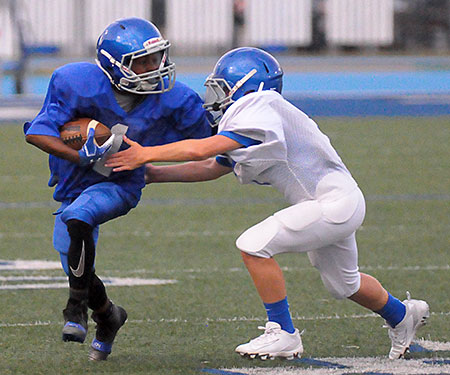 "Whenever they stopped us in our normal stuff, it kind of left us searching," he allowed. "I had put back a formation that I had during my 2015 run with McClellan. I'd been saving it. We broke it out and it got us down the field and got us a touchdown.
"They were bringing so much pressure and getting to us so quick, I thought if we could get it to the outside quick with Robinson, it would give us a shot," he explained. "Before you know it, they were trying to stop Robinson and we were able to get Allen the ball and let him go a little bit. Our offensive line was able to get a surge."
Both offensive lines were tough down the stretch. For Blue that was Landon Sehika, Braxton Speer, Garrett Patterson, E.J. Keith and Cameron Coats. For White that was Ethan Ledbetter, Tim West, Haiden Moreland, Matt Burk and Cairo Terry.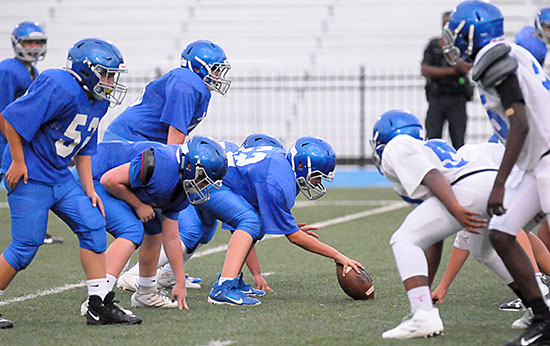 "Braxton was playing defense and he broke his nose," Bond mentioned. "Juan Olvera filled in for him then Braxton came back and played after he got his nose set, which I thought was just a testament to just how tough our offensive line is."
Jenkins praised his defense too. "Our defense played really well getting a turnover and making big stops," he said.
Bryant White's defense made two big stands as well, both were in the first half. Blue drove to the White 2. Blue quarterback Jordan Walker tried to keep it on a fourth down there, but the White defense swarmed. Led by Ledbetter and Baker, they dropped Walker for a loss.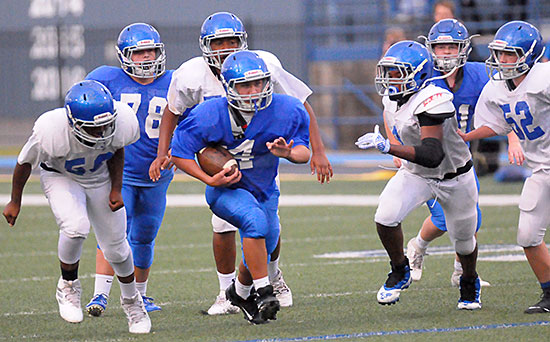 Moments later, Blue drove to the White 11. Allen was stopped for a loss on first down there then three consecutive passes by Walker fell incomplete with White's Jayden Welch breaking up a fourth-down throw.
The game was still scoreless at that point. White had yet to pick up a first down. But, on a third-and-1 at their own 10, Baker got loose for 25 yards and that initial first. A play later, his deep throw was caught by Elem Shelby after the Blue defender fell down. Shelby sprinted up the left boundary for a touchdown.
But a run for a two-point conversion by Tristen Knox was stopped leaving it 6-0 with :18 left in the first half.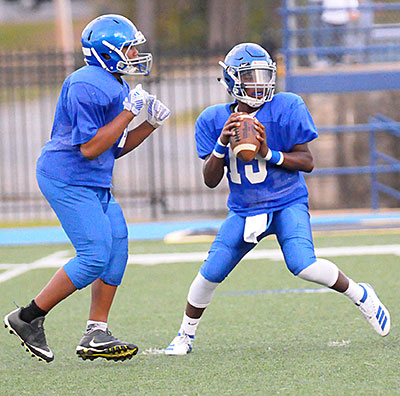 "Elem Shelby made a great catch," Jenkins said.
White got the ball to start the second half but was unable to pick up a first down. The first play from scrimmage for Blue was stopped for a loss by Darrell Moore. Robinson slashed for 17 yards but, on first down at the 49, Walker fumbled the snap and Baker recovered, returning the ball to the 33.
Back at quarterback, Baker ripped up a 20-yard run. Allen made a touchdown-saving tackle. A play later, Moore hauled in a pass from Baker that reached the 5 but a holding penalty downfield pushed White back to the 15.
Two keepers by Baker reached the 6 where, on fourth down, he tried again only to be turned back by the middle of the Blue defense.
"Coach (Joe) Cook had our D rolling," Bond mentioned.
Robinson started Blue's touchdown drive with a 17-yard gallop. He would add runs of 13, 15 and 11 before the White defense closed that sweep down. Allen then powered forward with four consecutive runs to set up a second-and-goal at the 3. They went back to Robinson for the TD.
On White's final march, both Moore then Knox, two of the team's offensive weapons were injured. So, it was on Baker after Knox opened the drive with a 14-yard run. Baker had a run for 11 yards then, on a fourth-and-6 at the Blue 35, he kept the drive alive with a 9-yard burst. Later, on a fourth-and-8 at the 24, he wove through the Blue defense for 12 yards.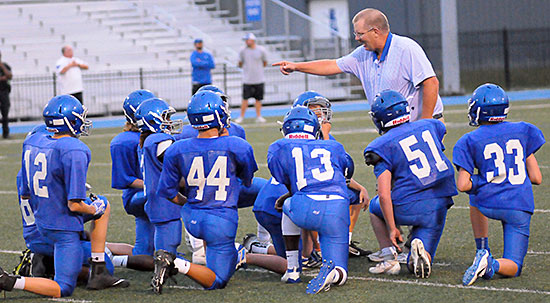 White used its last timeout with :33 left. Once at the 12, however, they were unable to get closer before time ran out.
"Thank God, thank our parents, thank the administration for giving us the opportunity," said Bond. "These kids are a fun group to coach."
Bryant White returns to action at North Little Rock next Monday. Bryant Blue hosts Benton on Monday.