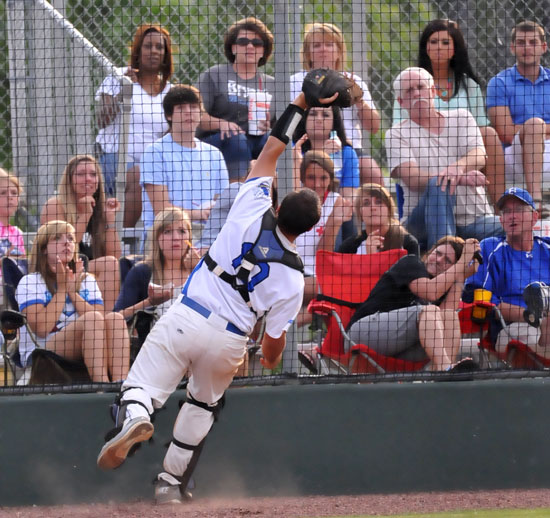 By Rob Patrick
Photos by Kevin Nagle
With the Russellville Cyclones, the team they're chasing, up next on their schedule and the Conway[more] Wampus Cats, the team that's been chasing them, after that, the Bryant Hornets got tripped up by the Van Buren Pointers, 3-2, on Thursday.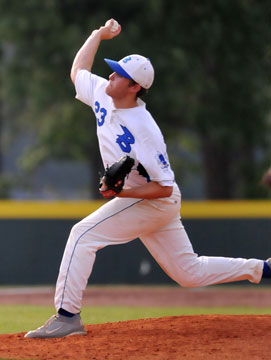 The Pointers notched just their third 7A/6A-Central Conference victory when they rallied for two runs to tie the game in the top of the sixth, took the lead in the top of the seventh, then held on the bottom of the seventh for the victory.
Bryant dropped to 20-5 overall and 9-3 in the league going into the aforementioned challenges.
The Hornets just couldn't get the clutch hit they needed late in the game. They stranded runners in scoring position in each of the last three innings.
Bryant had already clinched a bid to the State Tournament and, even with the loss, has now clinched a first-round bye. That's because Conway handed North Little Rock, its sixth league loss Thursday, 8-4. Since Russellville will be playing in the Class 6A playoffs, the Bryant-Conway game in the Hornets' home finale on Tuesday, May 1, will determine the No. 1 seed provided the two teams also win the last of their conference games on May 4. That's when Bryant is at Cabot while Conway hosts Van Buren.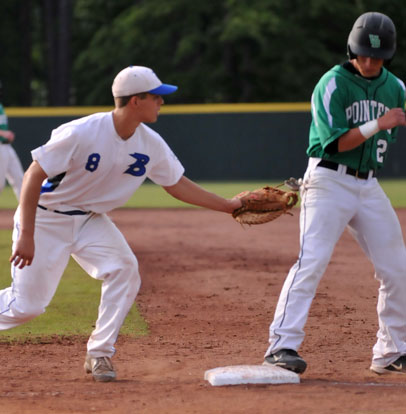 And thanks to Little Rock Central's 1-0 win over Russellville on Thursday night, the Hornets remain in the running for at least a piece of the conference championship. The Cyclones now have two league losses with Bryant, Van Buren and Little Rock Catholic remaining. Bryant and Conway have three conference losses each.
As Bryant heads to the South Conference next year and Van Buren returns to the West, Thursday's meeting was probably the last between the two teams for a while. Bryant's had the upper hand most of the way in the rivalry including a lopsided win in the State championship game in 2010 over the Pointers. So, the victory for Van Buren was, no doubt, a sweet one.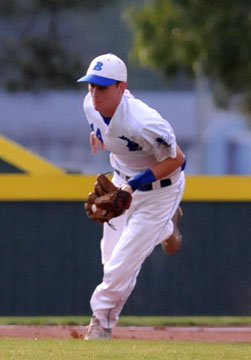 The difference was a two-out bloop single down the right-field line by Aaron Jones in the top of the seventh. It scored Caleb Bauman who had been hit by a pitch with one out, advanced on a wild pitch, then went to third on a tap to the mound by Quinton Ray. Jonathan Haywood, who was 2 for 3 in the game, was given an intentional walk to bring up Jones who got just enough of an 0-1 delivery from Bryant's Jordan Taylor to get it down inside the line in shallow right.
Taylor retired Tyler Goodnight to send it to the bottom of the seventh.
Bryant's Trevor Ezell started his team's last at-bat with a walk. Van Buren brought on Cole Plunkett to relieve starter Dylan Reese then Ezell proceeded to steal second and third, giving him four steals in the game. Tyler Green was called out on strikes bringing up Tyler Nelson who grounded to second too sharply for Ezell to score. Wesley Akers pinch-hit for Ozzie Hurt and ripped the first pitch he saw from Plunkett but it sailed out to left-center where it was hauled in by Haywood to end the game.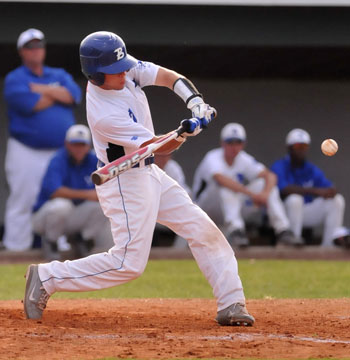 It had been a pitchers' duel between Reese and Bryant's Tryce Schalchlin. The Hornets broke the scoreless deadlock in the bottom of the fourth when Taylor singled and pinch-runner Drew Tipton was sacrificed to second by Dylan Cross. Hayden Lessenberry's grounder to second got Tipton to third for Hayden Daniel who hit a grounder to deep short that he was able to beat out for a hit as Tipton scored. When the throw from Van Buren shortstop Bradley Eversole sailed over the head of first baseman Parker Johnson, Daniel took off for second after working his way around Johnson who had leapt to try to make the catch. A relay to second narrowly nabbed him for the third out. Though Bryant head coach Kirk Bock argued for interference on Johnson, after a conference between the two umpires, the play stood.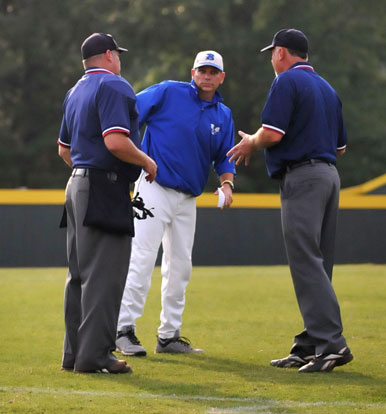 Schalchlin had retired nine of the first 10 batters he faced, giving up only a one-out walk in the first. In the top of the fourth, Ray pulled a 1-2 pitch into left for a single and Haywood doubled to the gap in right-center. Ray held up at third despite his coach waving him around and it proved to be an important moment. Schalchlin struck out Jones then, after an intentional walk to Goodnight, struck out Plunkett. And when pinch-hitter fouled out to Lessenberry, the Bryant catcher, Schalchlin and the Hornets had wriggled off the hook.
With one out in the top of the fifth, Van Buren threatened again. Eversole doubled and advanced on a bouncer to third by Bauman on which Taylor made a sparkling play on a short-hop. Ray was hit by a pitch to put runners at first and third with Haywood coming up. But he never saw a pitch as Schalchlin picked Eversole off third base to end the threat.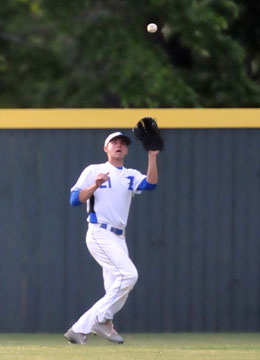 The Hornets made it 2-0 in the bottom of the fifth. Ezell singled to right and stole second. A wild pitch sent him to third and, with the infield in, he scored on a single to left by Green, who fought off an inside pitch for the jam-shot hit just beyond the reach of Eversole.
On a hit-and-run, Nelson grounded out as Green advanced to second. Reese induced a fly to center by Hurt for the second out, bringing up Josh Pultro whose check-swing liner was caught by Johnson at first to end the inning.
In the sixth, Haywood singled and Jones drew a walk. Goodnight sacrificed them to second and third then pinch-hitter Levi Froud walked on a 3-2 pitch to load the bases. Schalchlin gave way to Taylor as Reese came to the plate. He hit a grounder to Ezell at third. A quick throw to the plate forced Haywood but, a pitch later, Johnson lined a single to left to tie the game 2-2. Ezell cut off the throw in from Green in left, and relayed to Hurt at second to retire Johnson for the third out.
In the bottom of the inning, Reese retired the first two then walked Lessenberry. Courtesy runner Austin Caldwell stole second to get into scoring position but Daniel popped out to the catcher to send it to the tell-tale seventh.
VAN BUREN 3, BRYANT 2
Pointers ab r h bi Hornets ab r h bi
Bauman, cf 3 1 0 0 Nelson, lf-ss 4 0 0 0
Ray, 2b 2 0 1 0 Hurt, 2b 2 0 0 0
Haywood, lf 3 0 2 0 Akers, ph 1 0 0 0
Jones, dh 3 1 1 1 Pultro, 1b 3 0 0 0
Pearson, rf 0 0 0 0 Taylor, 3b-p 3 0 1 0
Goodnight, 3b 2 0 0 0 Tipton, pr 0 1 0 0
Plunkett, rf-p 2 0 0 0 Cross, dh 2 0 0 0
Froud, ph 0 1 0 0 Lessenberry, c 2 0 1 0
Reese, p 2 0 0 0 Caldwell, cr 0 0 0 0
Ryan, ph 1 0 0 0 Daniel, rf 3 0 1 0
Pearson, cr 0 0 0 0 Ezell, ss-3b 2 1 2 0
Johnson, 1b 3 0 1 2 Green, cf-lf 3 0 1 1
Eversole, ss 3 0 1 0 Schalchlin, p 0 0 0 0
Harshbarger, c 0 0 0 0 Tucker, cf 0 0 0 0
Totals 24 3 6 3 Totals 25 2 6 1
Van Buren 000 002 1 — 3
BRYANT 000 110 0 — 2
E—none. LOB—Van Buren 8, Bryant 6. 2B—Ezell, Haywood, Eversole. SB—Ezell 4, Caldwell, Ray. S—Cross, Goodnight.
Pitching ip r er h bb so
Van Buren
Reese (W) 6 2 1 6 2 3
Plunkett (S) 1 0 0 0 0 1
BRYANT
Schalchlin 5.1 2 2 4 4 6
Taylor (L) 1.2 1 1 2 1 0
Reese faced one batter in the seventh.
HBP—Hurt (by Reese), Ray (by Schalchlin), Bauman (by Taylor). WP—Reese, Taylor.