By Rob Patrick
Photos by Kevin Nagle
It's funny how perspective can change in a[more] month.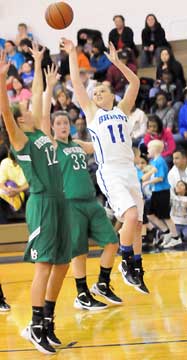 Going into their trip to Van Buren on Friday, Jan. 10, the Bryant Lady Hornets figured to be the underdog against the Lady Pointers who came in with a sparkling 12-2 record including a victory in their first conference game. The Lady Hornets were 8-6 and hoping to contend for a State tournament bid.
But when the Lady Hornets surprised the Lady Pointers on their own floor, 49-46, the teams kind of traded projections. Bryant's stayed ahead of Van Buren in the standings as both fared about the same leading up to their rematch on Tuesday night at the Hornets Nest.
Now they're tied because the Lady Pointers returned the favor. With four players scoring in double figures and, despite having three foul out at the end, Van Buren held on for a 58-54 win. It was, once again, an upset with the road team victory.
It was a game that would've really given the Lady Hornets some breathing room going into the most rugged section of the second half of their 7A/6A-Central Conference run. In the four games over the next two weeks, Bryant's opponents will include the powers of the conference starting with Russellville on the road this Friday. An unpredictable but athletically talented Conway team, which is struggling now, will visit Bryant next Friday before the Lady Hornets face the two clear leaders in the league, Cabot and North Little Rock.
The Lady Hornets spent the entire evening trying to catch up. They never fell behind by double digits but after a three-point play by Kiara Moore made it 3-2 in Bryant's favor, they never led again though they got within a point several times.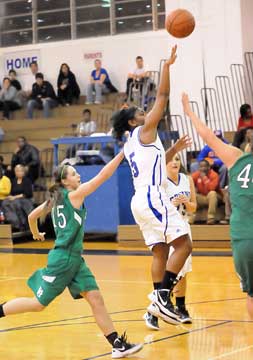 Free throw shooting cost the Lady Hornets along the way. Through three quarters, they were 6 of 14 from the line. Though they converted 13 of 16 in the fourth quarter, they could get no closer than the final margin.
"Some of those were one-and-one's too," acknowledged Lady Hornets coach Brad Matthews. "It was back-and-forth. We'd cut it to two or three then we'd give up some stuff and they'd get it back up to seven or eight. It was like that all night. We just couldn't get the defensive stops consistently enough."
Meanwhile, Van Buren finished 22 of 27 from the line. The Lady Pointers' 13 of 14 performance over the first three quarters contributed to their maintaining the advantage.
"Van Buren's good," Matthews noted. "They're skilled. They've got a bunch of seniors over there that have been through a lot of stuff. We put them in the bonus way too early in the second half.
"We have to execute our game plan better," the coach explained. "We need to do a much better job of playing to the scouting report. Teams in our conference are too good to be undisciplined. I thought we had been playing to the scouting report really well, especially at Mount St. Mary's and (Little Rock) Central. Tonight, we did not execute defensively the way we needed to."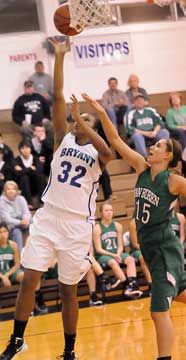 Van Buren center Mallory Brown hit a 3-pointers to counter Moore's play then a basket by Taneasha Rhode off the offensive glass tied the game at 5. When Paige Beckner hit a short jumper with 4:11 left in the opening quarter, Van Buren had the lead for good.
Moore would struggle with foul trouble, finishing the game with 7 points. Logan Davis took up a lot of the slack with a 17-point night that including three 3's. Dezerea Duckworth and Rhode each finished with 13 points. Rhode collected a game-high 16 rebounds while Duckworth took on the defensive assignment to try to slow down the Lady Pointers' top scorer Kirbey Blake. Though she still led her team, she only finished with 11 points. Beckner, Brown and Britney Campbell each finished with 10.
The Lady Pointers led 13-8 going into the second quarter but then Davis caught fire for Bryant after Moore had gone to the bench just before the end of the opening period with her second foul. Davis hit a pair of free throws to cut the lead to three then, after Beckner knocked down a short jay, Davis drained her first triple. Brown answered with a drive but then Davis ripped another trey with 3:51 left in the half, Bryant was within 17-16.
Moore and Davis traded buckets but, with 2:56 left in the half, Brown went to the line where he converted once. Her second shot failed but Campbell got it back and scored to make it 22-18. And when Bryant turned it over, Tara Alexander popped a 3 and Van Buren had suddenly opened up a 7-point advantage.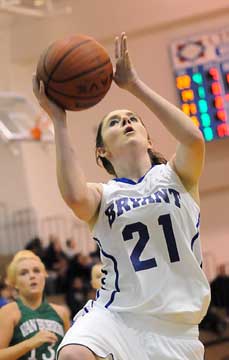 In the final 1:10 of the half, Bryant had a chance to trim 4 points off the margin from the free throw line but came up empty. A driving jumper by Duckworth had Bryant within 25-20 at the break.
Duckworth had held Blake to just two free throws in the first half but, as the second began to unfold, it was apparent that the Lady Pointers were going to do what it took to get Blake more involved. She had the first two buckets of the third quarter around a free throw by Rhode, making it a 29-21 lead.
After Davis buried her third 3, free throws by Beckner and Alexander pushed the margin to its apex at 33-24 at the 4:18 mark of the third period.
Bryant answered with an 8-0 run which could've been bigger but not for a pair of missed free throws. Davis hit a baseline jumper then Rhode knocked down a pair of jump hooks. After Alexander misfired on a 3-point try, Duckworth drove for a layup and the Lady Hornets with once again within a point at 33-32.
But, once again, they were unable to get the lead.
Maria Santilana converted two free throws for Van Buren and, after a Bryant turnover, Campbell knocked down a pair from the line. Duckworth couldn't get her shot to go in response but Aubree Allen pulled down the offensive rebound for the Lady Hornets. But Blake made a steal and Santilana hit the offensive boards to make it 39-32.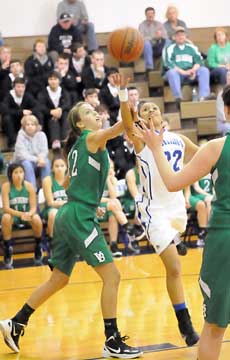 It was 41-33 going into the final period.
Twice the Lady Hornets whittled the lead to 2 early in the fourth. Duckworth scored on a drive up the baseline then Davis drained a pair of free throws to make it 41-37.
Bryant then got a lift when Blake missed the front end of back-to-back one-and-one trips. So when Rhode was fouled grabbing the carom off the second miss, her free throws had Bryant within 41-39.
Beckner hit two free throws and Duckworth got a reverse layup to go with 5:45 left. Alexander, however, connected on a 3-pointer to make it 46-41. Van Buren's press produced another turnover but Bryant's Peyton Weaver, trying to defend, took an elbow in the face and hit the floor. Beckner scored then time was called to tend to the junior guard who was woozie as she was helped to the bench. Meanwhile, Matthews protested that there hadn't been an offensive foul called for the decking.
Free throws by Duckworth and Rhode had the Lady Hornets back within 4 at the 4:33 mark but Blake's 3 blunted the Lady Hornets' momentum.
And when Campbell hit two free throws, the lead was back up to 9, 53-44 with 3:40 left.
Bryant continued to attack on both ends but could only manage to get within 5 as late as the 1:04 mark. With :41.6 left, Jordan Outlaw missed a pair at the line but Bryant was unable to take advantage. Only in the final seconds on free throws by Rhode and a buzzer beater by Duckworth did the margin drove to 4.
LADY POINTERS 58, LADY HORNETS 54
Score by quarters
Van Buren 13 12 16 17 — 58
BRYANT 8 12 13 21 — 54
LADY POINTERS (17-6, 5-4) 58
Player fg-fga ft-fta reb fls pts
o-d-t
Campbell 2-4 6-6 3-3 6 1 10
Beckner 3-9 4-4 1-4 5 5 10
Alexander 2-9 2-2 0-1 1 2 8
Blake 3-5 4-5 3-2 5 0 11
Brown 4-5 1-2 1-10 11 5 10
Santilana 2-5 4-4 2-3 5 5 8
Trejo 0-0 0-0 0-0 0 2 0
Outlaw 0-0 1-4 0-0 0 0 1
Team 0-2 2
Total 16-37 22-27 10-25 35 20 58
LADY HORNETS (13-10, 5-4) 54
Player fg-fga ft-fta reb fls pts
o-d-t
Moore 2-12 3-7 0-4 4 4 7
Duckworth 5-14 3-6 4-0 4 3 13
Davis 5-9 4-4 0-0 0 3 17
Davidson 1-3 2-4 2-3 5 4 4
Rhode 3-6 7-8 6-10 16 2 13
Hogancamp 0-2 0-1 0-0 0 1 0
Murphy 0-0 0-0 0-0 0 0 0
Meyer 0-0 0-0 1-1 2 0 0
Weaver 0-0 0-0 0-0 0 1 0
Allen 0-0 0-0 1-0 1 2 0
Team 0-0 0
Total 16-46 19-30 14-18 32 20 54
Three-point field goals: Van Buren 4-12 (Alexander 2-9, Brown 1-2, Blake 1-1), Bryant 3-12 (Davis 3-6, Duckworth 0-2, Moore 0-2, Hogancamp 0-2). Turnovers: Van Buren 17, Bryant 16.