Photos by Kevin Nagle
The Conway White Wampus Cats freshman team put together surges to start both halves and, despite[more] a furious fourth-quarter rally by the Bryant Hornets, held on for 41-34 win at Bryant Middle School gym Thursday night.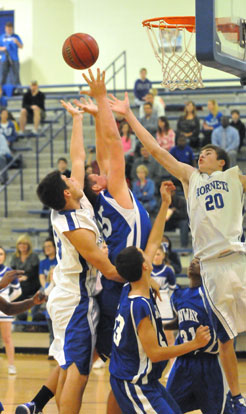 The Hornets, now 2-6, travel to Cabot South on Monday, Dec. 3.
Kris Croom scored 12 points to lead Bryant. Kevin Hunt added 5. Simeon Watson, Jordan Walker, Trey Harris, Dagan Carden and Cameron Murray had 3 points each. Evan Lee and Clay Ingold pitched in with a free throw apiece.
Conway White broke out to a 10-4 lead by the end of the first quarter and, after a nearly even second period, held a 22-14 edge at the half.
A big third quarter pushed the margin to 37-21 going into the final six minutes.