Photos by Kevin Nagle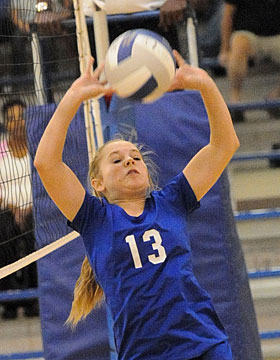 Lylah Washington had four kills, six aces and was good on 18 of 20 serves to lead the Bryant White Lady Hornets eighth grade volleyball team to a 25-17, 25-20 win over their counterparts from North Little Rock on Monday at Bryant Middle School gym.
"We finally put together a while game," said Lady Hornets coach DeAnna Ward, whose team won its first match. "Lylah had a great night. Celena Martin was very strong at the net with three kills in the second set. Gianni Hulett was 100 percent from the serving line (7 for 7). Kortnie Suggs and Mekeycia Baker both played well with a couple of blocks and several tips."
The Lady Hornets are scheduled to return to action on Thursday, Sept. 17, at Conway White.