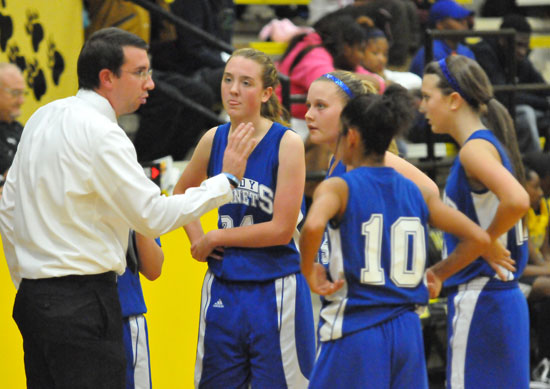 Photos by Kevin Nagle
PINE BLUFF — The Bryant Lady Hornets freshman basketball team took a step forward, according to[more] head coach Nathan Castaldi, despite a 28-19 loss to a tough Watson Chapel Lady Wildcats team on Thursday night.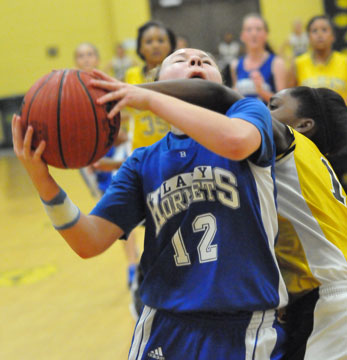 "While we did not come out on top, we did see improvement from game one to game two," he stated. "We were able to execute our offense better and get open shots. We just went into a cold spell about the middle of the third quarter and could not overcome in."
The Lady Hornets were able to cut the lead to 2 early in the third quarter. Chapel had established a 10-6 lead by the end of the first quarter and held a 16-12 edge at the half. During Bryant's dryspell in the third quarter, the lead grew to 24-16 going into the fourth.
Skylar Davis led the Lady Hornets with 7 points. Anna Turpin, Britney Sahlmann and Rachel Miller each added 4 points.
"Defensively we played much better," Castaldi said. "They had a difficult time scoring on our defense, but they were able to get too many offensive rebounds, giving them two, three and sometimes four shots at a time.
"The good thing about our mistakes (from both games we have played so far) is that they are correctable and the girls are working hard to fix them," he noted. "I saw improvement in all our girls tonight, but I do want to point out Anna Lowery. She was able to step in and handle the ball for a great deal of the second quarter and was able to handle their pressure well."
The Lady Hornets are set to return to action in the first round of the Bryant Invitational Tournament on Monday at 5:35 p.m., against Hot Springs at the Bryant High School gym.