By Rob Patrick
As bad as it was, it could've been much, much worse.[more]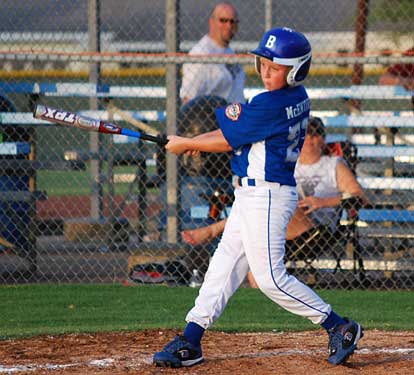 Will McEntire, a member of the Bryant 9-year-old All-Star team that last year reached the semifinals of Regional Tournament play, suffered a skull fracture when he was hit by a batted ball just minutes before the grand opening ceremonies for the Bryant Athletic Association baseball season at Bishop Park Saturday.
Fortunately, the injury did not require surgery. Will, the son of Crissy and Madison McEntire, was taken to Children's Hospital and spent one night there before coming home.
"His skull is cracked but everything remained in place so they didn't have to operate and said it will heal on its own," Madison reported.
"He's doing okay," he continued. "His head still hurts and he still does not have the compete use and feeling in the fingers on his left hand but it is getting better each day. The doctor says it will get back to normal eventually when the bruising on his brain heals. He had a little bit of blurry vision at first but that seems to be okay now."
Will goes back in a month for follow-up with the doctor.
Madison said that his son was among a group of kids waiting for the opening ceremonies to begin on one of the smaller Rookie League fields, "goofing around playing home run derby.
"An older boy threw a ball up to himself to try to hit it out of the park but hit a line drive instead," Madison continued. "It struck Will on the head three or four inches above his right ear. Will was standing near the pitcher's mound about 45 to 50 feet away with his head turned. He never saw it coming.
"He was a real trooper through the whole thing until they told him no sports for six months," he added. "Then he started sobbing. It's going to be hard on both of us this summer since we both love baseball and spend most of our father-son time at the ballfield. He is really missing his buddies, but I told him I'd take him to his team's games.
"It's going to be a long summer because he is already tired of being cooped up in the house and it's only been three days," Madison said. "But I've told him that God allows things to happen to us for a reason and everything will out for the good. I guess the bright side is we get to do some things this summer that we've been wanting to do that we never get around to doing because of baseball."
Madison concluded, "Crissy and I are very appreciative of all of the prayers, phone calls, offers of help, and other support that we have received from friends and parents from the ball park as well as from the Bryant community in general."