Editor's note: This is a regular feature profiling senior athletes at Bryant High School.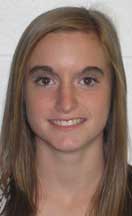 NAME: Stacie Waite
PARENTS: Terri Cook and Nathan Waite
SIBLINGS: I have three older sisters. One is 23, one is 24 and one is 30. Sara Davis, Stephanie Davis and Victoria Miller.
FAVORITE SUBJECT IN SCHOOL: Math
FAVORITE SPARE TIME ACTIVITY: I like to chill with my friends and I like to watch TV
FAVORITE FOOD: Pizza
FAVORITE MUSIC ARTIST OR GROUP: Hip-hop and R&B.
FAVORITE MOVIE: Takers[more]
FAVORITE TV SHOW: Phineas and Ferb
WHAT WAS YOUR FAVORITE TOY AS A KID? The building blocks and Legos
WHAT ARE YOUR PLANS AFTER HIGH SCHOOL? I'm going to UALR for about four years then transferring to UAMS to do nursing.
OTHER THAN YOUR PARENTS, WHO'S HAD THE BIGGEST INFLUENCE ON YOUR LIFE? HOW? I'd have to say Coach (Dan) Westbrook actually because without him I wouldn't be as strong as I am and be who I am out on the track. It's made me stronger.
WHAT'S YOUR FAVORITE THING ABOUT TRACK? Running and being with my friends
EVENTS? I run 4×800 and the 800.
WHAT APPROACH DO YOU TAKE TO YOUR EVENTS? I just try to listen to my music for a little bit and then when I get nervous I try to make people laugh, crack some jokes. It makes me feel better. I just try to keep up with the pace, with the people around me then I give it all I've got for the last 200.
WHAT DO YOU THINK OF THE SEASON SO FAR? We're doing good. I'm surprised, actually, with the people that we lost from last year. I think we can do good for the rest of the season.
WHAT'S BEEN THE HIGHLIGHT TO THE SEASON SO FAR? Winning our home meet.
WHAT'S IT GOING TO TAKE FOR THE TEAM TO BE SUCCESSFUL THE REST OF THE SEASON? We've just got to stay focused. We've got to pick it up. Everybody's got to do their job. You know, it's a team effort. We've just got to work hard, just like we've been.
TALK ABOUT YOUR EVENT NOW; WHAT DO THINK IS YOUR BIGGEST ASSET? WHAT ARE YOU MOST CONFIDENT IN YOUR ABILITY TO DO? I'm always focused. The 4×800 is my race. There's four runners and that's the race I want to do my best at because it's a team thing. I always want to give it my all in that because I don't want to let anybody down.
WHAT DO YOU WORK HARDEST IN PRACTICE TO IMPROVE ON? My speed.
WHEN YOU'RE THROUGH RUNNING TRACK AT BRYANT HIGH SCHOOL, WHAT DO YOU THINK YOU'LL LOOK BACK AND REMEMBER MOST FONDLY ABOUT THE EXPERIENCE? The rides to different meets, the bus rides.