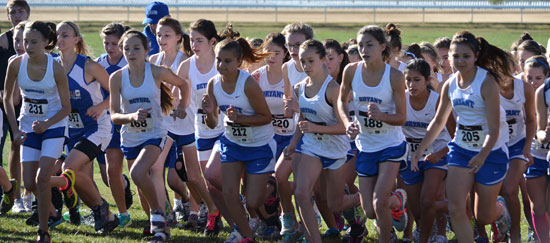 Photos courtesy of Lloyd Wilson
HOT SPRINGS — Led by eighth grader Sidney Wilson's individual victory, the Bryant Junior Lady[more] Hornets took runner-up honors at the Lake Hamilton Invitational Saturday at Oaklawn Park.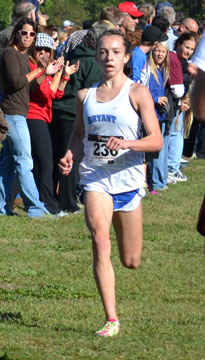 Conway won the team title with 53 points with Bryant finishing second with 82 points. Lake Hamilton was third with 84 points followed by Little Rock Christian (141), Heber Springs (147) and Russellville (157). There were 21 teams and 260 individual runners in the race.
Wilson continued her string of dominating performances by taking the individual championship with a time of 13:23. Running in the lead pack for most of the race, she threw in several surges in the last mile to sustain a sizeable lead and won by 13 seconds over Jenny Kirschman of Lake Hamilton.
"Sidney ran an awesome race today," stated Bryant coach Danny Westbrook. "She is beginning to understand the different strategies involved in running cross country. The rest of the lead pack just could not cover for those late surges. She has tremendous talent and a very bright future in this sport."
Also taking top 30 medals for the Junior Lady Hornets were eighth graders Hadley Dickinson (11th, 14:13) and Reagan Smith (21st, 14:27).
The remaining scorers for Bryant were Jessica Butler (31st, 14:46) and Hailey Levinson (32nd, 14:47). Finishing out the top seven were Camryn Bolton (38th, 15:00) and Melissa Barrientos (51st, 15:15).
The team will next compete in the Walmart Junior High Championship on Nov. 3 in Cabot.