Editor's note: This is a regular feature profiling senior athletes at Bryant High School.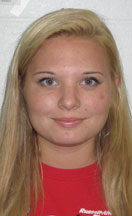 NAME: Stephanie Cyz

PARENTS: Stacy and Arlo Cyz
SIBLINGS: Samantha, 20; Tyler, 15; Peyton, 13
FAVORITE SUBJECT IN SCHOOL: Anatomy
WHAT DO YOU LIKE TO DO IN YOUR SPARE TIME? To go to nature parks
FAVORITE FOOD: Strawberries
FAVORITE MUSIC ARTIST OR GROUP: Bullet For My Valentine
FAVORITE MOVIE: A League Of Their Own[more]
FAVORITE TV SHOW: Tosh.O
WHAT WAS YOUR FAVORITE TOY AS A KID? Tickle-Me Elmo
WHAT ARE YOUR PLANS AFTER HIGH SCHOOL? College
OTHER THAN YOUR PARENTS, WHO HAS HAD THE BIGGEST INFLUENCE ON YOUR LIFE? My Grandma Cyz. She makes me feel accepted and tells me only you can be you.
FAVORITE THING ABOUT CROSS COUNTRY: The close bond with teammates
WHAT'S YOUR APPROACH TO A RACE (Strategy/Preparation)? Stretch good and keep a good mental game.
WHAT DO YOU THINK OF THE SEASON? It's wonderful; we have a really good group of competitive athletes.
WHAT'S BEEN THE HIGHLIGHT TO THE SEASON? My team (white) winning the practice meet.
AFTER YOU'RE THROUGH RUNNING CROSS COUNTRY AT BHS, WHAT DO YOU THINK YOU'LL REMEMBER MOST FONDLY ABOUT IT? I'll remember all the hard work I've put into my practices and how Coach W. (Danny Westbrook) pushed and cared about me.