Wilson shines as Lady Hornets dominate field at home meet
EDITOR'S NOTE: Because the look back at each day in Bryant athletic history has been so favorably received during the time when there was no sports during the COVID-19 shutdown, BryantDaily.com will continueposting past stories of Bryant athletics either posted on BryantDaily.com (from 2009 to the present) or published in the Bryant Times (from 1998 to 2008).
Photos courtesy of Olaf Hoerschelmann and Angela Rhode
With six first-place and five second-place finishes, the Bryant Lady Hornets swimming and diving team amassed 524 points to win the Bryant Invitational meet at the Bishop Park Aquatic Center on Thursday, Jan. 12. Taylor Wilson won two individual events and contributed to another in the 400-yard freestyle relay to highlight the meet.
Benton was second in the 11-team field with 267 points followed by Magnolia (168), Rogers (162) and Mount St. Mary's (124) to complete the top five.
In addition to Wilson, Kalina Weaver and Sara Weber won individual events for Bryant, which also captured top honors in two of the three relays.
Wilson won the 200 and 500 freestyle races. In the 200, she turned in a 2:19.70 to narrowly beat out Katie Fox of Russellville (2:19.94). Bryant's Helen Woodham was fourth in 2:35.56 with Taylor Vaughn eighth in 2:479.79 and Elizabeth Milam 10th in 2:52.50.
In the 500, Wilson's winning time was 6:08.66. Janie Lee of Benton was second in 6:23.51 and Bryant's Hannah Tennison was third in 6:33.73. Woodham added a fifth-place finish in 6:33.73.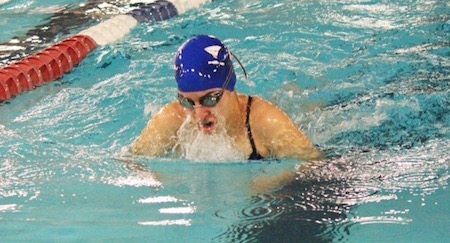 Along with Wilson, Lara Kockaya, Kayla Vaughan and Jessica Butler combined to finish the 400 relay in 4:12.46, well ahead of second-place Magnolia at 5:41.50.
In the 200 medley relay, Bryant won in 2:05.29 with Benton right behind at 2:05.29. Leela Hoerschelmann joined Kockaya, Butler and Vaughan in the effort.
Weber's win came in the one-meter dive, leading a Bryant contingent that swept the first four places. Weber's score was 153.10 with Paris Works second at 138.70, Maria Carmona third at 97.50 and Jaden Heath fourth at 91.80.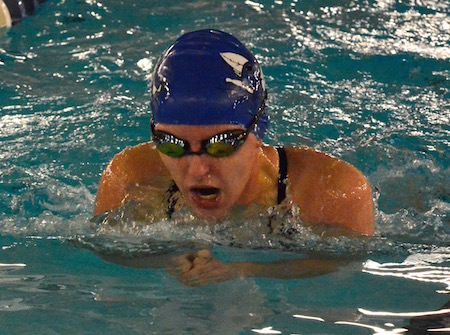 Weaver's win came in the 100-yard breaststroke. She clocked in at 1:22.74, just ahead of Magnolia's Ella Williams at 1:25.78). Jamie Hammers finished third for the Lady Hornets in 1:28.68. Milam was sixth at 1:35.89.
Weaver also joined Hoerschelmann, Erin Vaughn and Wilson to turn in a 2:01.76 in the 200-yard freestyle relay, which Benton won in 1:52.94.
Butler was second in both the 50 free and the 100 butterfly. Her 25.91 in the 50 was second by less than a second to Kayla McGee of Lonoke (25.41). Kockaya was sixth at 28.19 and Vaughan was eighth in 28.38.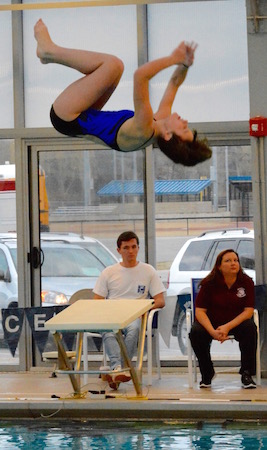 In the butterfly, Butler's 1:05.88 was topped only by the 1:01.32 turned in by Benton's Lydia Huthmaker. Erin Vaughn was fifth at 1:14.42 and Hailey Addison sixth in 1:22.51.
Hoerschelmann contributed a second-place finish in the 200 individual medley, clocking in at 2:49.58. That was just off the pace set by Magnolia's Rylee Barnett at 2:41.56. Tennison was third (2:50.56), Erin Vaughn fourth (2:52.07) and Hammers fifth (2:53.34).
In the 100 backstroke, Hoerschelmann's 1:14.52 captured third. Heath was seventh in 1:31.13.
Kayla Vaughan contributed a fifth-place finish in the 100 free, with a time of 1:05.42.
The Lady Hornets are scheduled to compete next on Friday at the Conway Invitational.