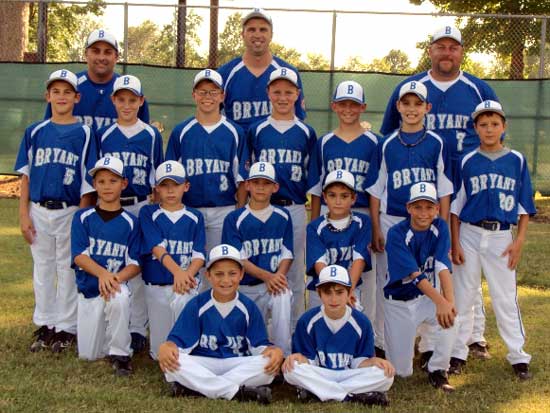 By Rob Patrick
The 10-year-old boys that make up the Bryant All-Stars will probably never forget their first[more] airplane ride or their destination.
On Thursday, Aug. 11, they'll board planes that will eventually take them to Chicago and Washington, D.C., on their way to the Cal Ripken World Series in Winchester, Va. (about 70 miles west of D.C.).
The Banquet of Champion will begin the festivities on Friday at 5 p.m., with the opening ceremonies following at 7. (All times, Eastern Daylight Time)
Champions of the Southwest Regional Tournament in Levelland, Texas, the Bryant team opens pool play in the American Division on Saturday at 3:30 p.m., against Bel Air, Md., the Middle Atlantic Regional champion.
The Bryant team members are Logan Catton, Logan Chambers, Logan Grant, Cade Dupree, Nathan McFarland, Coby Greiner, Will McEntire, Ryan Lessenberry, Hunter Mullings, Ty Jackson, Konnor Clontz, Jacob Shepard, and Brock Bariola. The manager is Michael Catton and the assistant coaches are Phillip Dupree and Madison McEntire.
Games can be viewed live on-line here.
The website for the tournament is here.
On Sunday, Bryant takes on the host Winchester team at 5:30 p.m. The team will play the Pacific Northwest Regional champion Williamette Valley of Eugene, Ore.
Tuesday will be a day off and, according to Coach McEntire, among other things, the team and its followers are set to attend a Major League Baseball game in Washington with the Nationals playing the Cincinnati Reds, who just recalled former Bryant star Travis Wood.
"We bought tickets right above the Reds' bullpen and Travis will be in it," McEntire said.
The Stars will be back in action on Wednesday, Aug. 17, to wrap up pool play, taking on Midwest Plains Regional champion, the Mineral Area Bulldogs of Parkhills, Mo.
Bracket play starts on Thursday, Aug. 18, involving the top three teams in each of the two brackets in a single-elimination format. Pool play winners earn a first-round bye in bracket play.
The National Division includes Southeast Regional champion West Raleigh, N.C.; New England Regional champion New Milford, Conn.; Pacific Southwest champion Laguna, Calif.; Ohio Valley Regional champion Lexington, Ky.; and Virginia State champion Glen Allen, Va.