Photos courtesy of Lloyd Wilson
HOT SPRINGS — The Bryant Hornets competed at the 7A State Cross Country Championships on Saturday at[more] Oaklawn Park, earning a seventh place finish. Considering the youth on the runners involved for the Hornets, though, the real value of competing at the event may be the experience of it.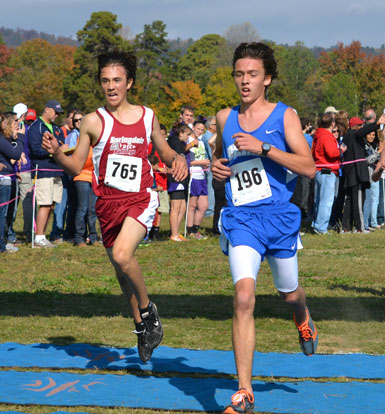 The Hornets scored a total of 214 points to finish behind Bentonville, Rogers, Springdale Har-Ber, Little Rock Catholic, Rogers Heritage, and Fayetteville.
"Of our top five finishers today we had one freshman, three sophomores, and a junior," noted Bryant coach Steve Oury.
Connor Wilson, one of the sophomores, was the top finisher for the Hornets, placing 23rd in a time of 17:11. He was followed by sophomore Nicholas Schmidt, who finished 38th in a personal best time of 17:28.
Charlie Terry, the freshman Oury referred to, was the Hornets' third finisher turning in a 17:30 to place 40th. Then came junior Tyler Purtle (59th in 18:06) and the third sophomore Dru Wen (70th, 18:21).
The rest of the Hornets who competed Saturday were junior Clifton Hampton (72nd in 18:26), sophomore Jim Dellorto (80th in 18:53), junior Spencer Adami (81st in 18:58), and sophomore Mark Winn (119th in 21:19).
"We had some guys struggle and some other guys run very well," Oury said. "Connor Wilson wasn't having his best day, but he did a great job of hanging in there and competing to the end. Nicholas Schmidt had the race of his life, setting a nice personal record. Charlie Terry struggled, but he had a spectacular year for a freshman.
"I'm proud of these guys and am very excited to have them all coming back next year," he concluded.