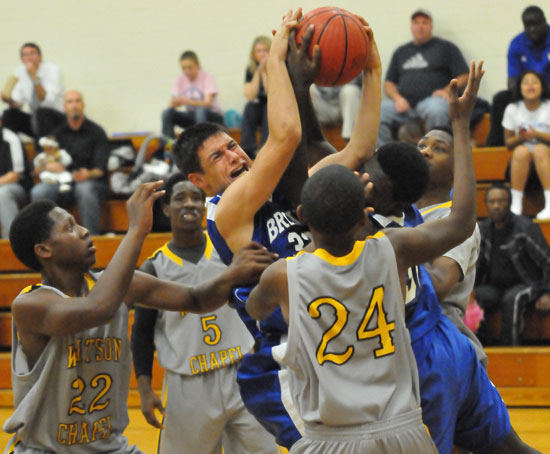 Photos by Kevin Nagle
PINE BLUFF — The Bryant Hornets freshman team captured its first win of the 2012-13 season on[more] Thursday, Nov. 8, with a come-from-behind 25-24 win over the Watson Chapel Wildcats.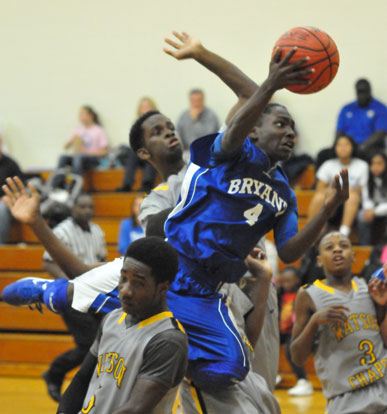 Evan Lee made a steal and drove for a layup with about a minute left to play to put the Hornets ahead 25-24 but the Hornets committed a foul on a last-season 3-point attempt by the Junior Wildcats. Their win survived when all three free throws were missed with no time remaining.
"The kids played real hard," stated Bryant coach Mike Simmons. "Watson Chapel was very athletic and we had a hard time keeping them off the boards. Kris Croom made a couple of big plays in the fourth quarter."
Croom wound up with a team-high 9 points. Kevin Hunt added 5, Lee 4 and Clay Ingold 3. Cameron Murray and Simeon Watson each pitched in with 2.
Chapel led 9-7 after a quarter but the Hornets held a 15-13 edge at the half. Bryant was held to just 2 points in the third quarter, however, and trailed 21-17 going into the final period.
"We have a long way to go and it's just going to be a day-by-day process of getting better," Simmons said.
The Hornets, now 1-1, were set to open the Bryant Invitational on Monday, Nov. 12, at 7:45 p.m., against Maumelle's Hornets at the Bryant Middle School gym.