Photos by Kevin Nagle
The first in a series of basketball games this season between Bryant and Benton will be played[more] tonight when the freshman girls get together in the winners bracket semifinals of the Bryant Invitational at the Bryant Middle School gym. Tipoff is 7:45 p.m.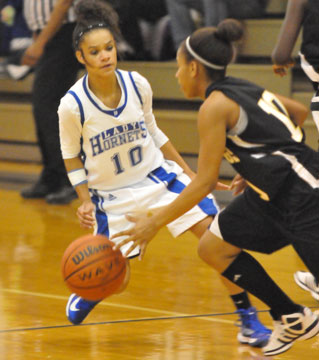 The match-up came about after the Bryant's Lady Hornets downed Hot Springs, 30-21, and Benton's Lady Panthers edged North Little Rock, 26-25, in the first round of the tournament on Monday night at the Bryant High School gym.
Hot Springs and North Little Rock will play in the consolation bracket at 4:30 p.m.
In the other half of the bracket, Lake Hamilton defeated Hot Springs Lakeside, 38-32, and Conway White beat Pulaski Academy, 32-25. Lake Hamilton and Conway White will play in a winners' bracket game at 6:40 while the Lakeside and Pulaski Academy play at 5:35.
The tournament will conclude on Thursday.
Monday's win was the first for the Lady Hornets after losses at Vilonia and Watson Chapel. Britney Sahlmann led the way with 10 points. Anna Turpin added 8. Rachel Miller had 4, Kailey Nagle and Skylar Davis 3 each and Anna Lowery 2.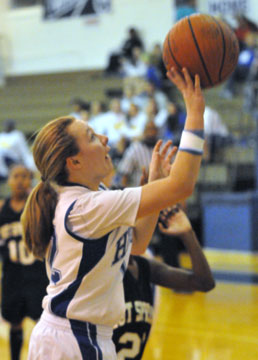 Bryant led 8-6 after a quarter then both teams doubled their scoring in the second period. The Lady Hornets held a 16-12 edge at the break. They expanded the margin to 23-14 by the end of the third quarter and, though Hot Springs rallied within 5, the Lady Trojans never pulled even.
"We came out much better last night than we had the previous two games," commented Lady Hornets coach Nathan Castaldi. "We handled the pressure that Hot Springs applied and were able to get some easy lay-ups off of that. We also rebounded better than we did last week, which was an area that has to improve.
"Defensively we played well, especially the third quarter," he noted. "We went to a zone, which we don't spend much time on, and were able to frustrate Hot Springs and extend our lead going into the fourth quarter."