By Rob Patrick
Photos by Kevin Nagle
At the end of the second quarter and the start of the third, the Bryant Hornets freshman team put[more] together a 15-6 run that turned an 11-11 game into a 26-17 lead over the Maumelle Hornets Monday night in the first round of the Bryant Invitational Tournament.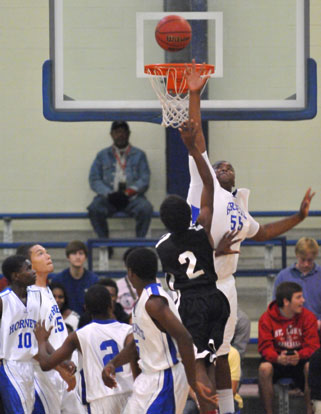 But basketball is often a game of streaks and Maumelle — and guard Shawn Williams in particular — countered with their own surge. With Williams scoring 11 of his game-high 25 points during the stretch, Maumelle put together an 18-2 blitz that produced a 35-28 advantage that, though Bryant bounced back, proved too much to overcome.
Maumelle, with Williams hitting four clutch free throws in the final 31 seconds, held on for a 46-39 win to advance to the winners' bracket semifinals against Conway White tonight at 6:40.
Bryant will take on Pulaski Academy at 5:35 in the consolation bracket. Conway White defeated Pulaski Academy 41-30 on Monday.
On the other side of the bracket, Benton dismissed Lake Hamilton 47-30 and Hot Springs drubbed North Little Rock, 52-32. Benton and Hot Springs meet at 7:45 tonight while North Little Rock and Lake Hamilton play at 4:30 in the consolation bracket.
Monday's boys games were played at the Bryant Middle School gym. Tuesday's second-round will switch venues to the Bryant High School gym. The tournament concludes on Thursday.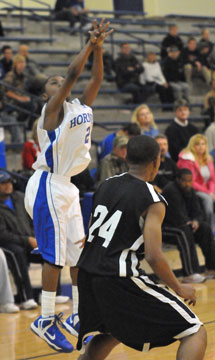 "We knew they were a good ball team," said Bryant head coach Mike Simmons of Maumelle. "We'd lost to Vilonia and they turned around and beat Vilonia pretty good.
"We had things going our way and then (Williams) just starts getting hot," he acknowledged. "Then instead of just relaxing and settling down and realizing, well, we've got to take our time and get a great shot, we felt like we had to hurry up and match him. We took two or three bad shots and tried to run up and steal it from him. He went by us and got a couple of little layups. There was just about a four-minute stretch there where we panicked instead of just settling down and playing, getting things under control.
"As I told them, when these other teams make those runs, you've got to have patience, settle yourself down and get back in control that way," the coach related. "These kids haven't played together. It's the third game for them and they've just got to get some experience with those types of situations and how we're supposed to react as a group. It's just going to take a while.
"But we played better tonight than we did last Monday night," Simmons noted, referencing the season-opening loss at Vilonia. "We're making strides to get better."
Alex Oneal, who fueled the Hornets early and late with his four 3-pointers, finished with a team-high 14 points. Kevin Hunt added 10. Cameron Murray finished with 7 points and 7 rebounds.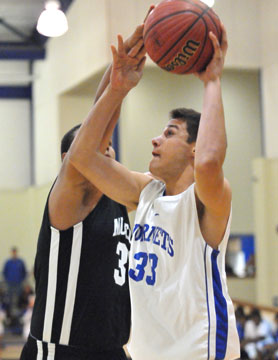 Tre Ricks was Maumelle's second-highest scorer with 7.
Bryant trailed 40-33 with 1:18 left in the game. Oneal drained his third 3 of the game at 1:11 to trim the margin to 40-36. Simmons called a timeout but Ricks scored for Maumelle at 1:02. Hunt misfired on a 3 but Bryant forced a turnover and Oneal struck again from long range, cutting the lead to 42-39 with a timeout at :31.
But Maumelle got the ball in the hands of Williams and he was fouled on the inbounds play. He converted twice. Maumelle made sure Oneal couldn't get a shot so Hunt tried again. The shot rimmed out and, with :12.1 left, Williams sealed the win with two more from the free-throw line.
At the start of the game, Oneal canned a pair of 3's and Hunt drilled another to produce a 9-6 lead. Clay Ingold added a bucket inside and Bryant led 11-7 going into the second quarter.
Maumelle tied it on free throws by Ricks and a driving jumper by Williams and actually pulled ahead briefly, 13-12.
Croom put Bryant up 14-13 with a pair from the stripe then baskets by Hunt and Murray pushed the lead to 5. Bryant led 18-15 at the half.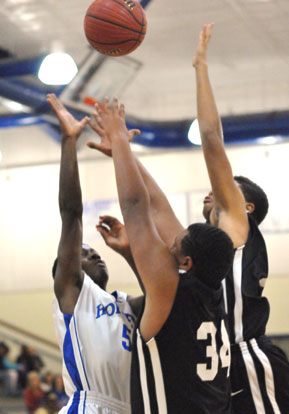 After Maumelle cut the lead to 1 at the start of the third quarter, Bryant's surge was fueled by Hunt and Murray. Hunt drained a 10-foot jumper as he was fouled and, when his free throw came off, Murray powered for the rebound, scored and was fouled. Though he was unable to complete the three-point play, Bryant forced a turnover and Hunt flushed a 3 to make it 25-17.
After a timeout, Maumelle turned it over again and Murray was fouled inside. He converted a free throw with 3:48 left in the quarter and Bryant had its largest lead at 26-17.
The carom off the second free throw went out to Bryant, giving the host Hornets a chance to add to the margin but Murray's shot refused to fall.
At the other end, Williams dropped in a running jumper in the lane to spark the Maumelle blitz. He would score 10 straight points for his team including a pair of 3's.
Oneal fed Murray for a basket to interrupt the run and, after Williams' second 3, the Hornets, still up 28-27, had two chances to increase the margin but couldn't get a shot to go.
With :25.2 left in the period, Ricks scored to put Maumelle ahead and before Bryant could score again on a layup by Evan Lee off a nice feed from Croom, the lead ballooned to 35-28.

MAUMELLE 46, BRYANT 39

Score by quarters

Maumelle 7 8 16 15 — 46
Bryant 11 7 10 11 — 39
Maumelle 46

Nixon 1-2 1-4 3, Williams 9-15 4-4 25, Franklin 1-6 2-2 4, Ricks 2-3 3-5 7, Hall 0-2 0-0 0, Jenkins 3-5 0-0 6, Spurlock 0-2 1-2 1. Totals 16-35 11-17 46.
Bryant 39

Oneal 5-10 0-0 14, Croom 0-12 4-6 4, Hunt 4-8 0-1 10, Carden 0-1 0-0 0, Murray 3-6 1-3 7, Jones 0-2 0-0 0, Ingold 1-4 0-0 2, Lee 1-4 0-0 2, Watson 0-1 0-0 0, Price 0-1 0-2 0. Totals 14-49 5-12 39.
Three-point field goals: Maumelle 3-7 (Williams 3-6, Spurlock 0-1), Bryant 6-20 (Oneal 4-8, Hunt 2-4, Croom 0-5, Lee 0-2, Watson 0-1). Rebounds: Maumelle 30 (Jenkins 9, Franklin, Hall 6), Bryant 30 (Murray 7, Croom 4). Turnovers: Maumelle 12, Bryant 12. Total fouls: Maumelle 11, Bryant 14.