By Rob Patrick
Former Major League pitcher and major college head baseball coach Geoff Zahn returns to Bryant this week at Diamond Sports.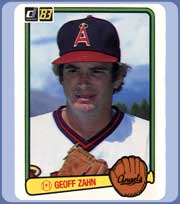 Along with private lessons Thursday and Friday, Zahn will conduct a pitching clinic entitled "Preseason Conditioning for Pitchers" on Saturday, Nov. 21, from 9 a.m. to noon. Fee is $60 per player. (A coach may attend free with four paying players.)
"I've been coming to (central Arkansas) for several years and I've been giving what I call a total pitching clinic where we talk about mechanics, I videotape the guys and then show them up on the screen next to somebody like (Roger) Clemons or Mariano Rivera and just give them an overview of their motion compared to those guys, the Major League guys, and what they can do to improve," said Zahn, a lefty who pitched for 11 seasons in the big leagues with the Dodgers, Cubs, Twins and Angels. "I give them conditioning exercises and we talk about strategy a little bit and arm care, the care and prevention of injuries.[more]
"I think it's both for the parents and the kids," he added. "Proper mechanics is certainly at the top. Of course, on top of their list is that they want to throw harder. Velocity is the big thing of the day. So I talk about care and protection of the arm including exercises you can do. I try to educate people on what sort of things can lead to injury and why do we do the things we do to try to protect the arm."
In his previous visit to Diamond Sports, one of the pitchers Zahn worked with was Matt Vangilder.
"I was a little apprehensive about signing up Matt for sessions with Coach Zahn because I thought it might be too technical for a 12-year-old," admitted Matt's dad, Keith. "But those reservations turned out to be unfounded. Not only was I impressed with what Coach Zahn taught but the way he taught it. His use of technology and his ability to grab and keep the attention of a younger player helped convey his message.
"Matt learned a lot in three areas," Vangilder continued. "Strength and conditioning, mechanics and his mental approach to pitching. Coach gave him several drills to help increase strength and conditioning including the proper way for a pitcher to warm up. He used video technology to show Matt's delivery from several angles which was a great tool to help him see where his delivery could be improved.
"Mechanically, Matt increased his stride, learned the proper arm slot and proper balance and follow through," he added. "Coach Zahn not only taught him the proper way to throw several pitches but also taught him when to throw them. He went over several game scenarios and explained how to 'set up' a batter using a series of pitches."
After his playing days, Zahn served as the head baseball coach at the University of Michigan. He is the founder of the Master Pitching Institute and has authored several articles for MLB.com and Collegiate Baseball.
He listed his influences in the big leagues, including longtime pitching coach Marcel Lacheman and manager Gene Mauch. In 1982, Zahn was an 18-game winner for the Angels.
"Since that time, I've been looking at a lot of the research that being done," he mentioned. "I had enough problems of my own. I had six surgeries on my left knee and one on my elbow, one on my shoulder. I've looked at the research that some of the doctors (who work with pro players) and I've got physical therapists who'll send me articles. I'm always curious about the most efficient way of throwing and now I've been teaching kids for 20 years or so."
For more information about the clinic and private lessons, call Diamond Sports at 501-653-2287 or visit the website http://www.diamondsportsbryant.com/