Zebras provide tough test for Hornets in resumption of scrimmage
EDITOR'S NOTE: Because the look back at each day in Bryant athletic history has been so favorably received during the time when there was no sports during the COVID-19 shutdown, BryantDaily.com will continueposting past stories of Bryant athletics either posted on BryantDaily.com (from 2009 to the present) or published in the Bryant Times (from 1998 to 2008).
By Rob Patrick
Photos by Rick Nation and Kevin Nagle
It's interesting how 12 plays on Monday affected 75 plays on Thursday when the Bryant Hornets and Pine Bluff Zebras resumed[more] their preseason scrimmage at Bryant Stadium.
Before the lightning flashed and forced the suspension of the proceedings on Monday, the Zebras seemed a little sluggish while the Hornets appeared to be charged up and playing crisply. Bryant took it to Pine Bluff, scored on a nice seven-play, 70-yard march while limiting the visitors to 6 yards on five plays.
After an attitude adjustment, no doubt, in the interim, the Zebras started Thursday locked in while the Hornets, perhaps feeling a little too good about how they'd done Monday, seemed a little too relaxed.
Nonetheless, the two teams wound up playing about evenly on Thursday by the scoreboard, completing the first quarter and playing two more before the JV teams scrimmaged. Counting Monday's touchdown, the Hornets wound up with a 21-15 advantage. And they might've had more had they been able to push it in from the Pine Bluff 1 on the final play of the first half.
"On Monday, we treated it a lot more serious," acknowledged Bryant head coach Paul Calley. "We treated it like a game. We went through our position meetings, all our special teams meetings. We did everything like we do on game night. And we were focused. And it showed. We came out to play.
"Tonight, it was more laidback," he said. "I let the kids leave, go get something to eat, come back — it was a lot more lax. And you could tell. We weren't as crisp.
"(Pine Bluff) Coach (Bobby) Bolding told me they treated this more like a game," Calley noted. "And you could tell. They were a little more focused. Their quarterback was sharp."
After tossing a touchdown pass to Sawyer Nichols on Monday, junior quarterback Hayden Lessenberry threw two more on Thursday, a 36-yard strike to Dillon Winfrey and a 49-yarder to Nichols who made a dazzling run after the catch.
All of Pine Bluff's scoring came on Thursday. Quarterback Jordan Humphrey completed an 80-yard drive on the 12th play to start the resumption, scoring on a 7-yard keeper.
In the second half, the Zebras picked up a safety when Lessenberry was cited for intentional grounding as he scrambled in his own end zone. Pine Bluff then drove for another score, covering 75 yards on 10 plays. Massive fullback Xavier Roaf bulled over from the 1. The Hornets foiled a try for two then the offense responded with a 75-yard march to regain the lead, capped by the Lessenberry-to-Nichols scoring pass.
"I'm glad it was a test," Calley asserted. "That's what we needed."
Counting Monday, the Hornets finished with 303 yards of total offense, 225 through the air. Lessenberry connected on 13 of 17 passes for 209 yards and three scores. Winfrey caught six for 133 of those yards.
The Zebras compiled 261 yards of offense, 201 of that on the ground, led by Walter Ashley with 71 yards on nine totes.Pine Bluff used its massive offensive line to muscle up on the undersized Bryant defense.
"That's something we're going to have to learn to negate with great technique," stated Hornets defensive coordinator Steve Griffith. "We're not real big. And, if we had some big guys we'd have them out there. But we don't have them. We've shown in the past that, with smaller guys that are explosive and quick and can play great technique, we can overcome size differences. We'll have to get a little bit better on our technique. We've got kids that really want to do well and they're going to work hard to get better.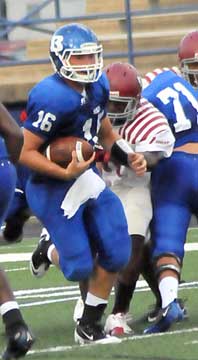 "We haven't done a lot of live tackling and I think that showed," he added. "We had some good hits where we didn't wrap up. We don't do a lot of live tackling in practice just to try to protect our offensive people so we've got them available. We expected coming in that that might be a concern.
"I thought we had a lot of hustle," he mentioned. "We did make some mistakes, some mental mistakes. We expected that. But they're things I believe we can correct. We'll come back and try to make a great amount of improvement between this week and next week."
Something else the Hornets may be working on is conditioning, Calley indicated. "We were also a little more out of shape than I thought," he said. "We haven't pushed them hard due to the heat and you could tell. And it scares me because we're depending on so many people to play both sides of the ball. I thought the defense did a good job of rotating people in and keeping people fresh."
Both teams scored on their opening drives Thursday. Eleven of the Zebras 12 plays were running plays. The lone pass was incomplete. They faced one third down in the early stages of the march and converted with a 13-yard run by Ashley.
The Hornets countered with a nine-play, 75-yard march. They had to overcome a sack and a penalty and it was fourth-and-8 when Lessenberry was flushed out of the pocket. Scrambling to his left, he found Winfrey behind the secondary down the sideline for a 36-yard touchdown. Jace Denker added the extra point.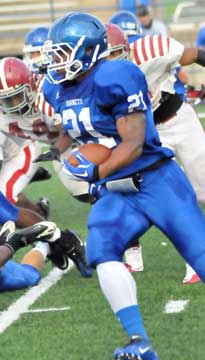 The defense bent but didn't break for the rest of the half. Pine Bluff took advantage of a pass interference penalty to keep its next drive alive. The Zebras reached the 11 before Tim Kelly made a stop for no gain then Jared Koon knifed in to drop quarterback Brandon Starks for a loss, forcing a field goal attempt that came up short.
Bryant was driving again thanks to a nice 10-yard run by Ben Clark and a 16-yard pick-up on a screen pass to Jalen Bell. But a fumble at midfield was recovered by Pine Bluff.
The Zebras, however, went three-and-out. On third down, Hornets' linebacker Tyree Reese blitzed and dropped Humphrey for a 9-yard loss.
With 2:47 left in the half, the Hornets took over at their own 22 and promptly marched toward paydirt. Consecutive passes to Winfrey picked up 20 then 42 yards to the Pine Bluff 16. Karon Dismuke picked up three then Lessenberry threw to Aaron Bell for 5 yards to the 8. Lessenberry converted a third down with a keeper and with time running out, the Hornets reached the 1. After taking a timeout with :06.4 to play in the half, the Hornets were denied the end zone when Lessenberry's sneak was stacked up.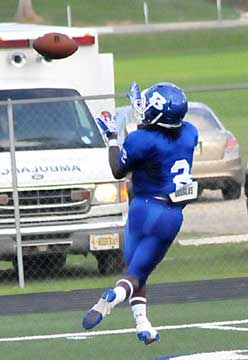 "I'm disappointed we didn't score," Calley commented. "That's my fault. We hadn't worked on the quarterback sneak. We've been working on so much other stuff, sometimes it slips your mind. But, at that point in the game, you know you've got to work on the quarterback sneak and the silent count and squeezing the ball over from the 1-inch line. And we didn't do it. I took the clock down thinking one last play. We can get the ball in an inch but we didn't do it.
"We've got to keep working on our short-yardage game, especially when we get inside the 20," he added. "It's real hard to score out of the spread offense. I've gone through that again and again, but the last three years I haven't had to worry about it because we've had a big offensive line and guys like Josh Hampton, Marcus Harris or Austin Humbard at fullback. If we get inside the 20, we were going to score. It's not a given now. The good thing is, we've got Denker and if we can't get the ball in the end zone then we're for sure going to get three out of it."
To start the second half, the Hornets lost 20 yards on their first two plays then, facing a third-and-30, Lessenberry retreated into his end zone and, scrambling, got rid of the ball in no-man's land for the grounding penalty.
Pine Bluff got the ball after a free kick and drove for another score. This time, though the Zebras needed a pass completion. It was 22-yard play from Starks to Shomari Center that converted a third-and-8 from the Bryant 35. Three plays later, Roaf scored.
Leading 15-14, the Zebras went for a two-point conversion but the Hornets denied it.
And the offense came right back to answer with the big completion to Nichols coming on the fifth play of the drive.
The defense responded as well. Kelly stuffed a first-down run by Humphrey for no gain and, after a 5-yard pass completion, a deep pass on third down was broken up and nearly intercepted by Jesse Johnson.
Bryant got the ball back with 3:05 left and ate up all but :45.8.
The JV teams scrimmaged in the fourth quarter. Highlights for Bryant included an opening jaunt by Caleb Thomas of 23 yards. Sophomore quarterback Wesley Akers completed four passes, three to Greyson Giles and the fourth to tight end Nate Rutherford who made a nice adjustment to grab a tipped ball.
Defensively, Koon made a couple of nice stops, as did Logan Howell. Darrien Jarrett broke up a pass.
The scrimmage ended with the Bryant sophomore offense going up against the Hornets sophomore defense. Johnny Austin accounted for the lone score, scooping up a fumble and returning it 36 yards for a touchdown.
Sophomore quarterback DeVonte Howard connected with Luke Howard (no relation) on a 40-yard pass completion as the offense drove to the 2-yard line. Both Jake Johnson and Davis Nossaman made touchdown-saving tackles along the way and, on the last play, Howard was stopped short of the goal line from the 2 by a host of Hornets.
On Monday, Aug. 29, the JV team will travel to Pine Bluff to open its season. The varsity opener is Friday, Sept. 2, with the Salt Bowl against the rival Benton Panthers at War Memorial Stadium in Little Rock.