Photos by Rick Nation and Kevin Nagle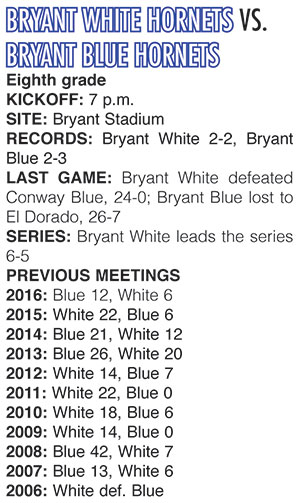 Both the eighth grade teams and the seventh grade teams from the two Bryant middle schools will be playing tonight in the 12th annual Hornet Bowl at Bryant Stadium.
The Bryant Blue Hornets of Bethel Middle School and the Bryant White Hornets of Bryant Middle School will tangle in the seventh-grade game starting 5:30 p.m. The eighth-grade battle will begin 15 minutes after the conclusion.
Bryant White is the home team this season and fans will sit on the home (West) side of the stadium. As the visitors, Bryant Blue will be on the East side.
There will be three ticket gates open on Thursday afternoon and evening. Ticket price will be $3.
The Bryant White eighth grade comes into the game 2-2 on the season. After a rugged start, the Hornets have won the last two games by a combined score of 52-0.
For the Bryant Blue eighth grade team, it's been a rough go since two season-opening wins by a combined score of 62-0.
Here are the starting lineups: