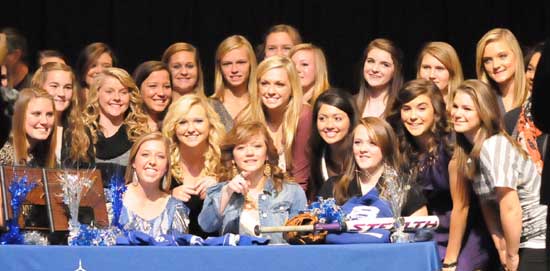 By Rob Patrick
Photos by Kevin Nagle
Work ethic, determination, leadership — beyond their obvious natural abilities, these were the[more] themes that kept recurring regarding a trio of Bryant Lady Hornets senior softball players who were saluted as they signed national letters of intent to continue their careers on the diamond and in the classroom on college scholarships.
The group ceremony was held at Love Auditorium on Thursday as Peyton Jenkins, Kayla Sory and Jessie Taylor officially made their commitments. Jenkins, the daughter of Louie and Glenda Jenkins, signed with Central Baptist College in Conway. Sory, the daughter of Ken and Joanne Sory, signed with Henderson State University. Taylor, daughter of Chris and Tammy Taylor, signed with the University of Central Arkansas.
Together, they have been key members of back-to-back Class 7A State championship teams with their senior season still to come this spring. As freshmen, they helped the Lady Hornets reach the State finals where they just missed taking the crown.
"These girls are going to leave a legacy that's going to be hard to duplicate," declared Lady Hornets head coach Debbie Clark, who orchestrated the two State title runs after taking over from Lisa Stanfield, who coached the team to the finals in 2009.
"I spoke with the girls about each of them having their day to celebrate their accomplishments and commend their parents and family for their dedication and support," Clark said at the start of the proceedings. "I preach team, team, team, team; but there is an appropriate time to have your day in the spotlight and a college signing is an appropriate day. However, these girls would not hear of having three separate days. They told me they had grown up together and shared everything and they have dreamed about this day since they were little girls."
"I'm really excited that I'm getting to, first of all, sign and then just getting to sign with two of the girls I've played with since I was 6 years old," Sory said of the decision. "That's one reason why it means a lot to all three of us."
"It means a lot because we've grown up together," Taylor mentioned. "I've known Peyton my entire life. I can't remember not knowing Peyton. Kayla, I've known since I was 5 and we played Upward Basketball against each other. It's just right. It's just the right thing that we would sign together because we've been together our entire lives."
"Most of my life, I've played with Jessie and Kayla, 12, 13, 14 years," Jenkins added. "We've really built a relationship. I will always be there for them and I know they'll always be there for me. They're like my sisters."
"I'm always honored to have a player who has an opportunity to continue their softball career at the collegiate level but to have three from one team in one year is amazing," declared the coach who, incidentally, was also proud to note that two players from her 2009 State championship team at Wynne were signing to play college ball on Thursday.
"There are rewards for hard work and no substitute for discipline," Clark stated. "Worthwhile results come from hard work and planning.
"When we met a couple of years ago, these girls didn't know what to do with me and the feeling was mutual," she quipped. "But we've come to an incredible relationship."
Keeping with that theme, Clark gave team stats instead of individual. "I believe that stats are history. We learn from them but it's not something we post in the locker room because it's about the name on the front of your jersey."
In three years, Clark said, the team has compiled a 73-16 record with three conference championships. During those championship runs over the last two seasons, they've outscored their opponents 469 to 123. As a team in 2011, the team clubbed 22 home runs.
"I think you can understand why I call them 'The Beasts'," she mentioned, referring to her affectionate nickname for all of her sluggers.
Now, while all three of the attributes mentioned at the start — work ethic, determination and leadership — apply aplenty to each of the three, in their own way they each represent one of those qualities in particular. To whit:
WORK ETHIC
Clark was talking about Taylor and mentioned, "She broke her ankle this summer and she got released a couple of weeks ago and before she came back to school, she went home, hit two buckets of balls, came back and told me, then went and checked in (at school)."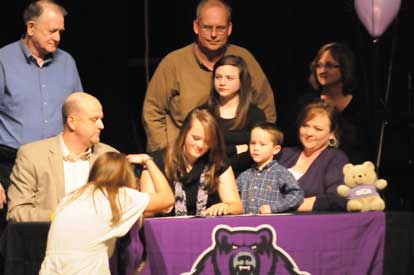 A record-setting home run hitter, Taylor played third base as a freshman since the Lady Hornets had the catcher position covered with Sarah Hart (now at CBC). She moved to catcher as a sophomore and has performed splendidly there while continuing to be "A Beast" at the plate.
"She pretty much coined the phrase for me," Clark said. "It's incredible. She has so much power and she works so hard. And because she works so hard every day everybody else around her gets better."
"I took it as a compliment," Taylor said of the moniker. "Then my mom was kind of like, 'A beast?' I said, 'Yeah.' And she said, 'I guess I can handle that.' It was very flattering. Who doesn't want to be a beast. I mean, by (Clark's) definition, it's not just the physical part of softball. It also has to do with how you are in school and in the community and stuff. So, it's really nice to be called a beast by her."
"She's competitive too," added the coach. "I'll never forget last year we took a beating from a team and she looked at me and said, 'We need to play them right now. Again.' When I was making out the schedules (for spring 2012), she said, 'Coach, are we playing that team again?' She's not going to back down. She's just an incredible player, a complete player, an incredible student, the complete package. She's a great example and a great leader. She's matured so much from a sophomore to this year and she's become the General on the field for me as the catcher. UCA is going to enjoy having her."
"I always wanted to go in-state because of my siblings so pretty much anywhere in-state," Taylor said of her decision to go with UCA. "I was considering Hendrix, Henderson, OBU, U of A, anybody in-state. (UCA) has a good Biology program and I want major in Biology so it was kind of a perfect match."
Asked about developing the swing that has produced such prodigious power, she credited a former youth coach, Kevin Bruick, whose daughter Jenna is also a key component to the Lady Hornets' history-making run.
"I started playing for him when I was 9 years old, which is when I started going into travel ball, which is when I got serious and really, really wanted to play college softball," Taylor related. "I don't know how he did it when I was 9 years old but he figured out somehow. He taught me and Peyton and we hit home runs so it apparently worked out."
DETERMINATION
When Peyton Jenkins was a freshman and even into her sophomore season, she was known as much around the state for her leap as she was for her actual pitching. There's a rule in high school softball that a pitcher must not lift her trailing foot as she delivers the ball. Because there were a few times she struggled with that, she began to gain a reputation for it. Opposing coaches would make a point to let the umpires know they needed to watch for it and everyone became very conscious of it.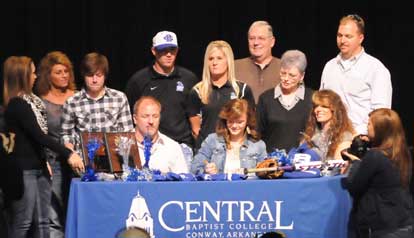 "When I first came, we had to work on her leaping," Clark recalled. "I told her, those are the rules. I may not agree with them, somebody else might not agree with them but it's what we've got to do. It's what we're dealt.
"That first year, I held her foot I don't know how many times, trying to create that muscle memory," she continued. "Then she would go in between innings when she wasn't up to bat and get one of the other girls to come out to the bullpen with her to hold her foot while she pitched, trying to build that muscle-memory.
"That first State championship (2010), the first inning, it took a little while to settle in," the coach recounted. "We were all nervous.
"Now that muscle-memory is there," Clark asserted. "The last State championship (2011), I had so many umpires come to me and say, 'It is incredible how much she has worked on that.' They noticed."
"It was frustrating but I realized I had to overcome it," Jenkins said. "I couldn't just, 'Oh, I give up. I'm never going to do it again.' I mean I'd let down not just myself but my team. I didn't have a choice, myself. I had to overcome it. You come up against obstacles in your life and you have to push through."
That maturity was something else Clark praised.
"Instead of her looking at an umpire and saying, 'Oh, he's not going to give me a pitch,' she knows if he likes low-inside or he's going to give me this corner or he likes them outside," the coach mentioned. "That's maturity, knowing, 'This is the umpire today. He's in charge of my strike zone but I know what to throw him.'
"She's been a tremendous leader," Clark declared. "She has an uncanny ability to walk onto the field and everything else — disagreements between teammates or something like that — she doesn't bring it with her. She knows what her job is on the field and she'll do it.
"And she's a utility player too. She can play first. She's got a great arm and she can hit. She's another Beast."
Of her decision, Jenkins said, "CBC was for me. I walked on campus and knew it was for me. It just had that feeling. I liked everything they had to offer. They had what I wanted to major in. It was everything I wanted. It was perfect for me.
"I talked to a couple of other places but it didn't hit me right," she said. "I didn't feel right with them. CBC, I was comfortable. That's where I want to be. It's right in that comfort zone and I can come home when I want.
"I'm excited. It's a life commitment and a life decision. I'm so excited I'm a little overwhelmed."
She added that the commitment is a weight off her shoulders as the team vies for a third consecutive State crown.
"There's a lot of relief that I don't have to worry about college anymore," she said. "I can just focus on getting better. I don't have to worry about, oh, is my ACT score this or that. It's all gone. I just have to play good ball and go to college."
LEADERSHIP
As the 2011 regular season was nearing an end, things just weren't quite clicking for the Lady Hornets. They lost a 4-3 heartbreaker to arch-rival North Little Rock in extra innings then went to Lake Hamilton and struggled in a 6-5 loss. Clark was trying to think of a way to jump-start her team as the State tournament approached. She wanted to get another bat in the lineup, in particular that of freshman Kaley Coppock. But Coppock's best defensive position was first base, a spot held down nicely by Sory.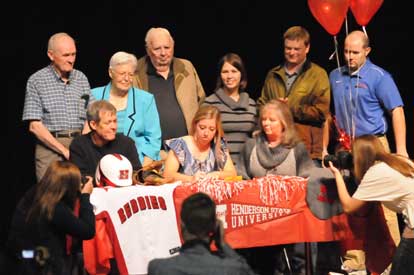 The coach went to her junior three-year starter and asked her to move to centerfield so Coppock could get into the lineup. The rest is history. The Lady Hornets got on a roll and successfully defended their championship. Coppock, incidentally, contributed all along the way including smacking three hits in the title game against North Little Rock.
"It was not easy," Clark recalled. "That was one of those decisions where we have to do hard things and I felt like that's what we needed to do. She took it right up. She took over that outfield and made me look real good."
Sory not only played well in the outfield and continued to smack the ball at the plate, she instantly took charge of the outfield, which included freshman Katy Stillman and sophomore Carly Yazza, neither of whom had played in the 2010 State title game.
"She's a natural-born leader," Clark said. "I watched her as she coached those other two girls State championship day. She's got them aside, coaching them. Those are moments I live for, coaching-wise."
"It was kind of a natural move just because I used to play outfield a lot," Sory stated. "One year I'd be an outfielder and the next year I'd be 'I don't want to play outfield anymore, I want to play infield.' And I'd move to shortstop primarily. The next year, it was like 'I'm tired of this, I want to go back to the outfield.'
"It wasn't nerve-wracking or stressful at all, just because I felt really comfortable in the outfield," she continued. "And my teammates felt really comfortable with me going back to the outfield because they'd seen me there.
"Ninth grade was when I really started playing first base," she mentioned. "Before that, I hadn't really ever played there. I played there for Coach Stanfield then, Coach Clark, all she knew me as was as a first baseman."
"I'd describe her as the ultimate utility player," Clark said. "She has taught me to go with my gut and my instinct. It doesn't matter where I've asked her to play, it's always, 'Yes, ma'am,' and she goes full force that way.
"I think she's going to be a great fit for Henderson State," the coach remarked. "She can play first base, she can throw the ball a little bit pitching and she can play outfield. But she's the kind of player who goes, 'Coach, yes, whatever you need me to do.' She's a team player, a role player and a leader."
Reflecting on her choice of HSU, Sory said, "I was actually considering CBC. I talked to the coach at Henderson. I was also considering (Arkansas) Tech. I went to a couple of camps and talked to them.
"There was one other school, Jacksonville State in Alabama, which is Division I," she mentioned. "A girl I played summer ball with is signing there. I went on a visit and I loved it. They're a well-known program but it was just too far away.
"(HSU) Coach (Beth) Jackson took me on a visit and I really liked the campus. It was close to home and I love the coach. I loved the campus and I just really felt at home there when I went."
And where will she play when she gets there?
"They have a girl that's a year older than me and, I believe, one that will be a senior when I'm a freshman so there will be two in front of me at first base," Sory explained. "So (Jackson) expects me to be able to step into the outfield pretty quickly. She said, with the way I'm hitting the ball, it'll be kind of hard to not (play me right away)."
Of course.
A coach can't afford to keep "A Beast" out of the lineup.