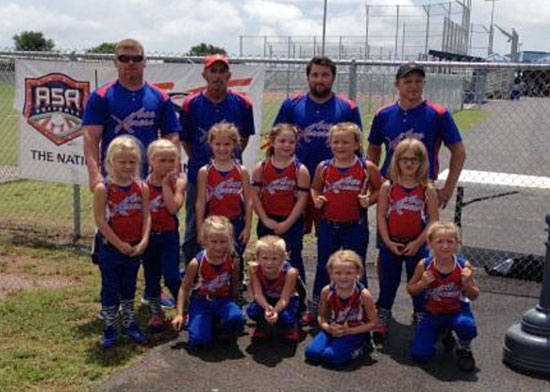 BOWLING GREEN, Ky. — Take an undefeated softball team and just add water. That was the[more] recipe that the Ace Xpress cooked up last weekend at the ASA 6U National Invitational Tournament (NIT) in Bowling Green, Ky., to take a share of the title with the Kentucky Thunder due to inclement weather.
After breezing through ASA District 9 and ASA Arkansas State, the Ace Xpress continued their winning ways in pool play by beating both the South Hardin All-Stars twice (13-4, 11-7) and the Kentucky Beast (15-4) before the remaining games were washed out by storms.
Both the Kentucky Thunder and Ace Xpress tied for runs allowed, leading the committee to crown both teams as National Champions. The Ace Xpress were the only undefeated team in the tournament.
"I knew that these girls were very talented and great softball players," said head coach Jeff Baumbeck after the tournament. "They continue to amaze me every time that they step on the field to play the game they love. I am very proud of each and every one of my babies."
The Ace Xpress girls are coached by Baumbeck, as well as assistant coaches Jason McClellan, Tim Hastings, and Josh Baumbeck. The players are Jaycee McClellan, Emma Newell, Alyssa Hastings, Alyson White, Kinley Baumbeck, Caroline Gariner, Mary Lem, Hannah Cantrell, Saffy Purdom, Riley Rough and Addison Jones.
Playing out of the Bryant Softball Association (BSA), the victory follows a 14u C State Championship by fellow league members, the Rampage. The BSA is directed by President Steve Wood, Commissioner Rob Kilgore, and Treasurer Ashley Mills.
For more information regarding the NIT Tournament, contact Bryant Softball Association at (501) 681-0635 or visit www.bryantsoftball.org