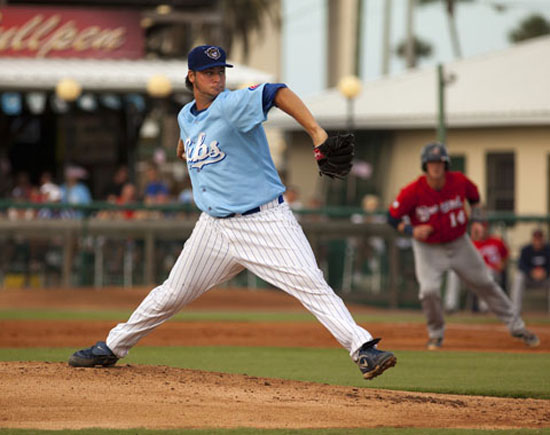 Courtesy of daytonacubs.com
DAYTONA BEACH, Fla. – For the second time this season, RHP Ben Wells (6-6) went seven[more] innings at Jackie Robinson Ballpark to lead the Daytona Cubs to a win, this time 3-1 Thursday night over the Brevard County Manatees.
The win puts Daytona back in first place in the North Division in the second half of the season, moving the Cubs' record to 8-4 and dropping Brevard County to 8-5.
Wells allowed only two hits and one walk through his seven frames, and did not permit a single batter to reach as far as third base.
Offensively, the Cubs were paced by infielders Tim Saunders and Dustin Geiger, who each homered off of reigning FSL Pitcher of the Week LHP Brent Suter (7-5), who went 5.2 innings for the Manatees and allowed all three earned runs on the two homers.
Wells walked INF Brandon Macias to lead off the game, but got two ground ball outs and a strike out to get out of trouble. INF Greg Hopkins singled up the middle in the next inning for the Manatees, but a double play immediately erased him. The only other Manatee to reach was OF Mitch Haniger, who doubled down the left field line in the 4th, kicking up chalk on his two-base hit. Catcher Cameron Garfield followed with a strikeout, however, to end the inning.
That strikeout was the first of ten consecutive batters Wells retired to finish his outing and one of three punch outs he racked up on the night overall.
EDITOR'S NOTE: Ben Wells of Bryant leads the Daytona Cubs (Class A Advanced affiliate of the Chicago Cubs) in innings pitched with 101.2 in 19 starts. He's 6-6 with a 3.45 earned run average after the outing above. He has allowed 87 hits, walked 34 and struck out 66. He's holding opposition hitters to a .231 batting average.