CONWAY — Junior Taylor Aldridge highlighted the efforts of the Bryant High School swim team at the Hendrix Invitational meet on Saturday, Jan. 24.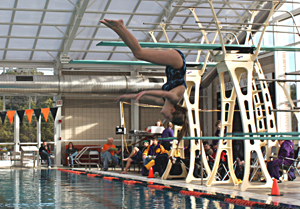 Aldridge finished fifth in the girls one-meter dive competition with a score 91.10, earning 14 points for the Lady Hornets.
The girls also picked up points in the 200 individual medley and the 100 free style from Justine Tazelaar. In the former, she was seventh with a time 2:36.92, picking up 12 points. In the latter, she finished eighth in a time of 1:02.27 for 11 points.
Megan Matthew added a 14th place finish in the 200 IM with a time of 3:03.04.
In the 500 free, Jordan Martin was 10th for the Lady Hornets in a time of 7:10.20 with Matthew 13th in 7:25.47.
Justin Combs accounted for all the points for the Hornets. His time of 2:11.89 in the 200 free was good for seventh with his 6:00.21 clocking the 500 free took ninth.
The teams were set to complete in a meet at UALR on Saturday, Jan. 31.