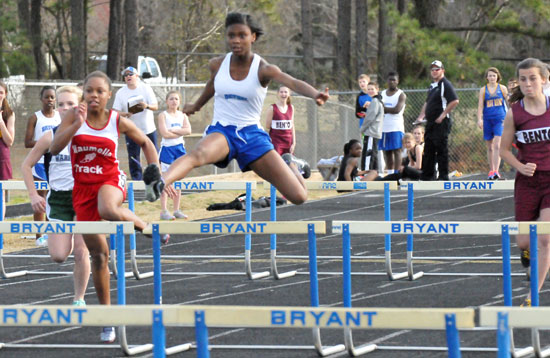 Photos by Kevin Nagle
In an 18-team field, Bryant had three times in the top 10 at the annual Bryant Junior Invitational on[more] Tuesday. The Bryant Freshman Academy Lady Hornets finished third with 98 points, just four points from winning the meet as Conway Blue and Lake Hamilton tied for top honors with 101 points each.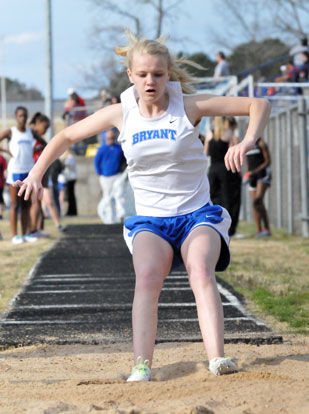 In addition, the Bryant White eighth grade girls of Bryant Middle School were fifth with 72 points, just a point behind fourth place White Hall. The Bryant Blue eighth grade girls of Bethel Middle School were tied with North Little Rock East for ninth with 18 points.
The Bryant teams, along with North Little Rock Ridge Road, were the only eighth grade teams in the meet. On the other teams, the eighth-grade athletes were included in their junior high squads.
Bryant Freshman Academy
The Lady Hornets' effort was highlighted by a 1-2 finish in the 300 meter hurdles from Ann Marie Keith and Stephanie Smith. Keith finished in 51.0 and Smith was right with her at 51.1.
Keith also took second in the 100 hurdles with a time of 19.1 with Megan Curry fifth in 20.1.
Second-place finishes were also turned in by Haley Hood, Hunter Delaney and Hannah Shelby, along with the 4×400 relay team.
The relay quartet, which turned in a 4:32 included Stephanie Smith, Hood, Keith and Reagan Smith. Hood was second in the open 400 with a time of 1:03.8. She also turned in a seventh-place finish in the 200 (29.2). Delaney's second-place performance came in the 800, which she finished in 2:47. Shelby was fourth in 2:49. Her second-place effort came in the 1600. She finished in 5:59.
The Lady Hornets were third in both the 4×100 and 4×800 relays. In the former, Keith, Hood, Stephanie Smith and Reagan Smith turned in a 53.7. In the latter, Sarah Cowell, Hunter, Shelby and Melissa Barrientos clocked in at 11.31.
In the field events, Sharayah Wallace scored in both throwing events. She was third in the discus with a fling of 70'6". In the shot, her heave of 28'9" was good for seventh.
Smith added a fourth in the triple jump (28'9") and Hood a sixth in the high jump (4'6").
"This was the junior girls first meet of the season and it was good to finally get to compete," noted Bryant High School coach Danny Westbrook. "We had some really good performances plus we were only four points from winning the championship. We'll make some adjustments in certain events and I think this group can contend for championship titles ever meet for the rest of the season."
The team is scheduled to compete next at Hot Springs Lakeside on Tuesday, March 26.
Bryant Middle School

Eighth grader Abby Ostrem won the long jump over freshman athletes with a leap of 15 feet. Ostrem was also fourth in the 300 hurdles, clocking in at 53.16.
The Bryant White team also picked up second-place finishes in both the shot and discus with Morgan Self's put of 32'8.25" accomplishing that in the shot and Serenity Bridges' throw of 72'10 garnering second-place points in the discus. Bridges was also fourth in the shot with a throw of 31'4.75.
Sydney Wilson was third in the 1600 meter run with a time of 6:05.22 while Taylor Banks took third in the 200 with a time of 28.80. Kyla Beal was eighth in the 200 in 29.79.
The team scored in two relays. In the 4×400, Wilson, Ostrem, Jadyn Lewis and Banks took third in 4:36.98. In the 4×100, Banks, Kiara Jackson, Beal and Lewis finished fourth in 53.99.
Lewis was fifth and Banks seventh in the 100. Lewis turned in a 13.55, Banks a 13.64.
In the 400, Lauren Lessenberry took eighth in 1:11.65.
And in the pole vault, Wilson and Dickinson tied for sixth by clearing 6 feet.
Bryant Middle School is scheduled to return to competition on Thursday, March 28, at Hot Springs Lakeside.
Bethel Middle School

Ti Foote scored in two individual events and contributed legs to a pair of relays that scored for Bryant Blue's girls. Her top finish came in the long jump when she cleared 14'95" to place third. In the 100 meters, she took fourth in a time of 19.88.
The Lady Hornets were sixth in the 4×100 with a time of 54.32. Along with Foote, Erica Outlaw, Presli Pendergrass and Daelyn Young ran in the event.
In the 4×400, Pendergrass, Young, Foote and Penny Smith combined on a 4:47 clocking, which was good for eighth.
Bryant Blue picked up sixth-place points in the discus as well. Danielle Webb's throw went 57'4".
The Bethel team is scheduled to compete next at Lake Hamilton on Monday, March 25.