Photos by Kevin Nagle
Pierce Finney accounted for 33.5 points for the Bryant Freshman Academy Hornets as they[more] finished second at the annual Bryant Junior Invitational track and field meet on Tuesday.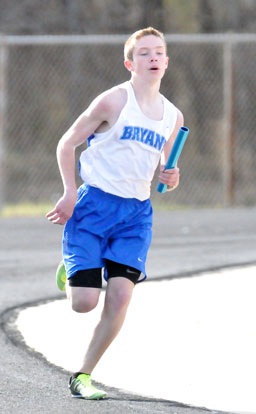 Five points was the difference as the Lake Hamilton Junior High Wolves edged the Hornets in the 18-team field. Lake Hamilton finished with 110 points to Bryant's 105. Cabot South was third with 78 followed by Bauxite with 65.
The Bryant White team of Bryant Middle School picked up points from Cameron Coleman with a seventh-place finish in the 200 meter run. Bryant Blue of Bethel Middle School earned points in the 300 meter hurdles where Jacob Loomis took seventh in 50.11.
Finney finished second in three events and contributed to a second in a fourth event (the 4×100 relay) as well as a winning performance in the 4×400 relay. He also picked up fourth-place points in the triple jump.
Bryant's quartet of Sam Martin, Chandler Reep, Ben Majors and Charlie Terry combined to win the 4×800 relay in a time of 9:19.02. In the 4×400, Finney, Taylor Hecker, Clayton Harvey and Wyatt Heavin won in a time of 3:54.63. The quartet of Finney, Hecker, Drew Alpe and Khaliq Slater combined on a 47.28 clocking in the 4×100 to take second.
Finney was also second in the 100 meter dash with a time of 11.73, the 400 in 53.38 and the long jump with a leap of 19'2.5". His triple jump covered 36'5".
The Hornets scored well in the 800, led by Terry's second place finish in 2:15.76. Martin was fifth (2:21.49). Josh Yenner, running for the BFA B team, was sixth in 2:21.81. (Each team was limited to two entries per event.)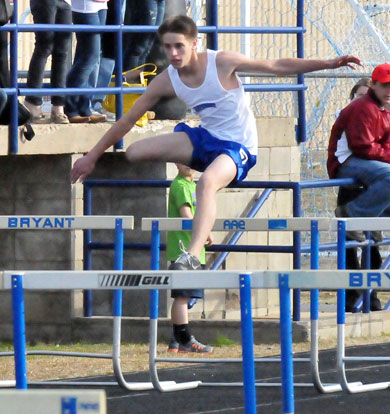 Hecker finished fourth behind Finney in the 400, turning in a 55.20, while Dylan Davis scored in both hurdles races. In the 300, he finished sixth in 49.17.
In the 110, he was seventh in 19.34.
In the throws, Danny Murillo finished fourth (42'2.5") and Ronnie Beard sixth (41'7.25") in the shot put. Justin Karp's throw of 115'11" in the discus earned a sixth place finish.
The Bryant freshman team is scheduled to compete again on Tuesday, March 26, at Hot Springs Lakeside.
"You always look forward to the first meet of the year because that is where you get to see how your team stacks up against the competition," commented freshman coach John Orr. "I learned that we are stronger than I expected is some areas and found some that we need to improve on. Overall I was very pleased with our performance today. The kids really gave tremendous effort. It's fun to work with kids that have a lot of heart and take pride in what they do. We really challenged the 4×400 meter relay team tonight at the end of the meet and they stepped up and ran great in winning it. We are very proud of them."
The Bryant White team is set to run at Lakeside on Thursday, March 28, while the Bryant Blue team is scheduled to return to competition on Monday, March 25, at Lake Hamilton.