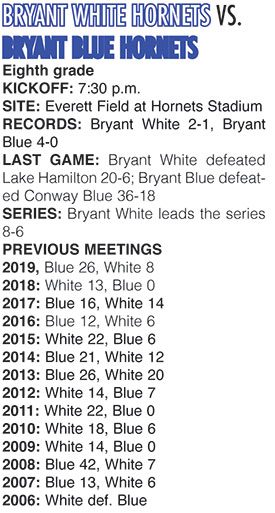 The Bryant White Hornets eighth grade team hasn't played a game since a 20-6 win over Lake Hamilton on Sept. 15. Contests on Sept. 24 and Oct. 1 were cancelled due to the coronavirus at North Little Rock and Conway White.
Bryant White is 2-1.
Meanwhile, the Bryant Blue Hornets have played on through and posted a 4-0 record.
The two teams meet in the annual Hornet Bowl tonight at 7:30 p.m. (following the freshman game with Little Rock Catholic) at Everett Field in Hornets Stadium.
The two teams only have one common opponent, Conway Blue. Bryant Blue defeated them 36-18 on Oct. 1. Bryant White, playing at Conway, lost to them 20-12.
Bryant Blue will be the home team.
When the two teams played in seventh grade, Bryant Blue eked out an 8-6 win.
Ticket price will be $5. No District passes will be accepted.