Zuber sets new school standard at Cabot Relays
EDITOR'S NOTE: In this time of COVID-19, with no sports action, BryantDaily.com will be posting past stories of Bryant athletics either posted on BryantDaily.com (from 2009 to the present) or published in the Bryant Times (from 1998 to 2008).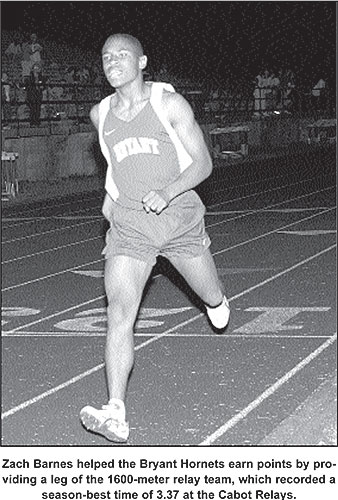 CABOT — Bryant junior Blake Zuber had been flirting with the school record in the pole vault all season, coming close but never clearing that 14-foot ceiling.
Well, on Tuesday, April 27, Zuber crashed through that ceiling and set the new school standard at the Cabot Relays. By clearing 14 feet, Zuber, who had already cleared the State qualifying height in an earlier meet, captured a second-place finish in the event helping the Hornets to a sixth-place finish in the 25-team field.
"Zuber looked the best he has all season," declared Bryant head coach Steve Oury. "He came extremely close to clearing 14-6, so hopefully he'll keep progressing."
The Hornets finished with 45 points and 35 of those came from their distance runners, led by the 3200 meter relay team's second-place finish. Chris Robinson, Adam Schneider, Bryan Ballew and Steven Bright combined for a season-best time of 8:17, just three seconds behind Jonesboro.
Ballew came back and finished third in the 1600 (in 4:39) and fourth in the 800 (2:05). Robinson was fourth in the 1600 (4:41) and sixth in the 800 (2:07). Bright placed second in the 800 with a time of 2:04.
The Hornets also picked up points from the 1600 meter relay team of Zuber, Devin Rice, Zach Barnes and Bright. They ran a season-best 3:37 and placed seventh.
"The distance runners did a good job of coming back after the 3200 meter relay and running quality races," Oury said. "Chris had his best meet of the year so far. His split in the 3200 meter relay was 2:03, which is a personal best for him.
"Steven was not firing on all cylinders but he still competed hard and did a great job," the coach continued. "Bryan had a solid three races and is going to be tough at conference. In addition, Adam Schneider just missed scoring in the 3200 meter run, placing ninth in a personal-best time of 10:41, which will do just fine at the conference meet."
Other athletes with personal-best performances, Oury mentioned, were Barnes in the triple jump, covering 38-1 and Andrew Linder in the 1600, with a time of 4:57.
The Hornets will host the AAAAA-Central Conference meet on Saturday, May 8.