Offenses highlight Tuesday scrimmage
EDITOR'S NOTE: Because the look back at each day in Bryant athletic history has been so favorably received during the time when there was no sports during the COVID-19 shutdown, BryantDaily.com will continueposting past stories of Bryant athletics either posted on BryantDaily.com (from 2009 to the present) or published in the Bryant Times (from 1998 to 2008).
By ROB PATRICK
BRYANT TIMES
MORRILTON — The Bryant Hornets and the Morrilton Devil Dogs both have offenses that, under normal circumstances, it takes special preparation to even begin to defend. With their focus on their regular-season openers on Aug. 31, neither team spent a lot of time on the other's scheme ahead of their pre-season scrimmage on Tuesday.
And that showed up in the offensive numbers. In three quarters (that didn't include punt or kickoff returns but otherwise were just like a game), the two varsity squads played to a 33-33 draw. In a quarter of play, the Bryant junior varsity outscored Morrilton's JV 14-8.
But, of course, in a scrimmage, the score is not important. Both teams, ranked among the best in their respective classifications — Bryant's ranked 10th in Class AAAAA and Morrilton second in Class AAAA by Hooten's Arkansas Football — got just about everyone some game action.
"When you play a wishbone team or a triple-option team, you've got to play assignment defense," noted Hornets head coach Daryl Patton after the scrimmage. "You can't be just blowing and going and early in the scrimmage we kinda were. The kids were excited and we want to be aggressive on defense.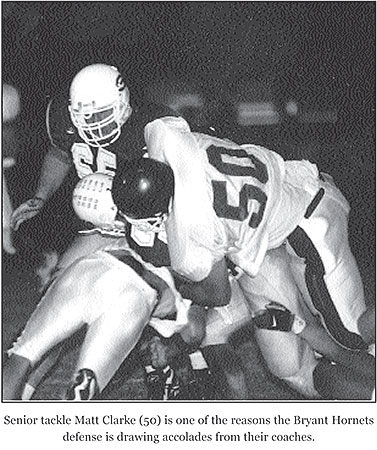 "But (opening opponent) Sylvan Hills will run a split-back veer and run the option, so this was a good test for us," Patton noted. "Morrilton, boy, they've got some good looking athletes.
"When our first defense was in there, we did some good things," he mentioned. "We started substituting a little bit in the secondary and we gave up a couple of long passes. A lot of that is just not getting enough reps on defense. Some of the guys we had back there have been playing offense maybe 75 percent of the time. But we wanted to give some guys some different looks, get them on tape. We did, so hopefully we can go back to the drawing board and learn from it and we'll be a better football team next Friday night."
Morrilton, with senior quarterback Keith Stobaugh keeping on the option every play, rolled to a scrimmage-opening touchdown, going 70 yards in four plays. Stobaugh accounted for 65 of those yards but, to show how the Bryant defense adjusted, he managed just 21 more on 13 carries the rest of the game.
"We got a little tired and we started slowing down and we were playing it better," Patton said.
The rest of the Dogs' scores came on big plays. Stobaugh completed just 3-of-10 passes but all three completions were long touchdowns, covering 42, 52 and 42 yards against the Hornets' patchwork secondary.
Ironically, Morrilton, the wishbone team that would be expected to grind it out and use the clock, was out-possessed by the passing attack of the Hornets. Bryant controlled the clock and put together some long, solid drives.
"We didn't have to punt," Patton noted. "I thought (quarterback) Lance Parker did a good job. He made some nice, real pretty throws. Our receivers came up and made some good catches. And I thought our first-team offensive line — we didn't get pressure and (Morrilton's) defensive line is pretty good. I know Coach (Doug) Scheel thinks their defensive line is probably the best they've had. So, I'm proud of that. Our offensive line blocked well. We ran the ball, at times, and when we had to in short yardage. (Senior running back) Matt (White) made some big plays.
"Offensively, I'm pretty pleased," said Patton. "We made some mistakes, some sophomore mistakes, had a few dropped passes. Brandon St. Pierre dropped more passes tonight than he has in two years but he's going to be okay."
St. Pierre was one of nine players that caught passes from Parker and sophomore quarterback Scott Peeler as the Hornets amassed 244 yards passing to go with 276 on the ground (including 159 in eight runs by the JV team). Parker, a first-year starter as a junior, didn't miss many targets but a few drops contributed to his 16-for-35 passing. Peeler was 5-for-12.
Bryant's first touchdown was a 5-yard completion from Parker to St.Pierre who made a leaping, tumbling catch in the corner of the end zone.
Later, Parker and A.J. Nixon combined on a 30-yard TD pass. Nixon was Bryant's top receiver with five catches for 60 yards. Zack Cardinal caught four for 57 yards while Jonathan Jameson and White hauled in three passes apiece. Two of Jameson's grabs were for scores, the first a 10-yard strike, was a fine catch in traffic.
White rushed for 62 yards on 15 carries and his three receptions accounted for 36 more yards.
Though they didn't punt, the Hornets were able to hit both of their field goal attempts and two different kickers came through. Matt Sullivan blasted a 43-yarder and, later, Steven Lee drilled a 39-yarder.
"I'm probably the toughest coach around on our kickers," Patton said. "I gripe at them every day, try to put a lot of pressure on them. I thought Matt Sullivan and Steven Lee both stepped up and kicked well tonight."
Sylvan Hills visits Bryant on Friday, Aug. 31.