Hornets get first taste of battle in scrimmage
EDITOR'S NOTE: Because the look back at each day in Bryant athletic history has been so favorably received during the time when there was no sports during the COVID-19 shutdown, BryantDaily.com will continueposting past stories of Bryant athletics either posted on BryantDaily.com (from 2009 to the present) or published in the Bryant Times (from 1998 to 2008).
By ROB PATRICK
BRYANT TIMES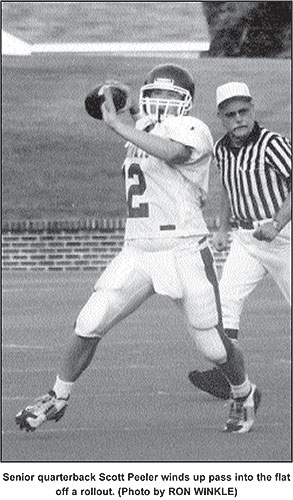 ARKADELPHIA — For those hoping to measure the Bryant Hornets or the El Dorado Wildcats against each other when the two teams scrimmaged Monday, Aug. 24, at Ouachita Baptist University's A.U. Williams Field, here's the lowdown:
When both teams deploy their first-teamers and run nothing but their base offenses and base defenses, they're about even.
Of course, in a regular-season (or post-season) game, there would be a little more strategy involved. But during the scrimmage, neither team wanted to give away too much as scouts from Warren (Bryant's opening opponent) and Fort Smith Southside (El Dorado's first foe) looked on.
"It was just a chance to get out there and play against someone else," stated Hornets head coach Paul Calley. "Our first group, other than turnovers, I thought we executed, did what we had to do. We were vanilla, didn't do a lot. El Dorado was vanilla. They didn't show us a lot on defense. The way they played us, we should've been able to throw the ball. It would've been hard to run.
The Hornets turned the ball over four times including three times on interceptions. Senior Scott Peeler was 6-of-14 for 119 yards and two interceptions, one of which was run back for a touchdown, the only score recorded by the El Dorado first team.
Peeler, sophomore Anthony Mask and junior Bryan Griffith combined to complete 13 of 34 passes for 235 yards. On the ground, the Hornets were shackled, gaining a net of 13 yards on 20 attempts, though that included 25 yards in losses on three sacks. Zack Young and Landon Bullock were the most effective running backs. Young carried three times for 17 yards, Bullock netted 19 on four tries but had the Hornets' longest run of 21 yards.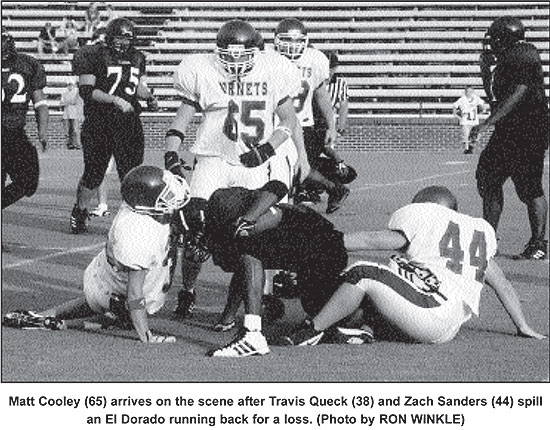 Both teams had their moments, as might be expected. The highlights for Bryant included a 65-yard touchdown pass from Peeler to Zack Cardinal and the first-team defense shutting out the El Dorado frontline offense. Todd Bryan's interception in the end zone helped thwart the Wildcats' best chance at scoring.
With reserves in the game, El Dorado scored two touchdowns and hit a field goal and Bryant was unable to score though Mask led a drive that reached the El Dorado 3 and Griffith drove the Hornets to the 25. Bryan, however, missed a pair of field goal attempts.
On the Hornets' TD, Cardinal caught a short pass over the middle, a slip screen that has been a Bryant staple in recent years. As he scrambled across the field trying to pick up blocks and avoid defenders, however, Cardinal was able to avoid contact until he ran into teammate David Hollis, who was working his way up the field to help clear the way for him. Hollis, Bryant's strongest player and starting left tackle, changed Cardinal's direction in a hurry. But the Hornets' star receiver kept his wits about him and headed straight up the field, finding a seam in the El Dorado defense and outran the Wildcats to the end zone.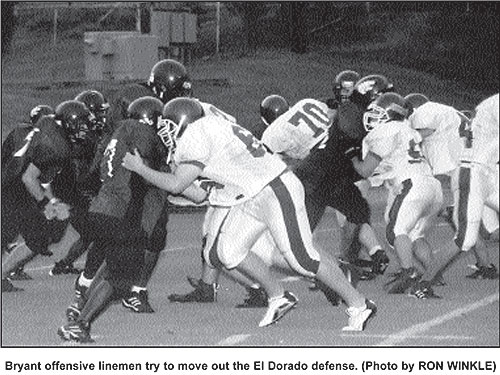 "We've got some kids that can make plays if we can get the ball to them," Calley noted.
That was the first play in a two-quarter game-like scrimmage that concluded the event. The two teams opened by taking turns on 10-play offensive series, one series by the first-teamers, then another from the second teams.
The scrimmage began at 6:30 with the sun still bearing down on the Bryant sideline and stands and the 100-degree-plus heat index had its effect. As defensive line coach Brad Stroud pointed out afterwards, while the sun was out the Hornets were a little sluggish, but once it went down enough to shade the field, they picked it up.
Calley saw plenty of room for improvement. "I'm concerned with the mental aspect, not being focused, not knowing assignments," he said. "We had some guys acting like they were totally lost. Younger guys that we're expecting to step up and play, at times, acted like they had never played football before in their lives. That's something they've got to overcome. It was just nerves, I think.
"The pass protection got better," he noted. "I thought the defense played well at times. Our receivers didn't catch the ball as well as I had hoped but, you know, it's the first game, we've got to get used to going over the middle."
Still, the Hornets had seven different receivers catch passes. Cardinal grabbed four for 101 yards and sophomore Dustin Holland hauled in four for 60 yards. A 40 yard connection from Mask to John Isbell, who caught the ball despite an interference penalty, keyed the second team's drive to the 4. Mask and Holland connected for 19 yards but the Hornets were unable to punch it in from the 3 against the bigger Wildcats.
"They had a size advantage," Calley allowed, "but it won't be the last time that happens. We've got to learn to overcome that."
Defensively, Bryant made El Dorado go backwards on their first series. Thomas Byington forced a 13-yard loss and Ronnie Spivey, playing despite a sore ankle, had a six-yard sack.
Later in the series, Cory Caldwell pressured the El Dorado quarterback and forced a hurried throw that Travis Queck nearly picked off.
During the game-like scrimmage Matt Cooley made a tackle for a loss on El Dorado's first play. Later, Jesse Nordman contributed a sack and Blake Zuber made a nice play in the secondary, knocking down a pass into the end zone to prevent a touchdown.
Both teams open the season on Labor Day. Bryant will face Warren in the Alltel/Hootens.com Kickoff Classic at War Memorial Stadium in Little Rock with a kickoff around 6:30 p.m. El Dorado takes on Southside as part of a two-game opening night at Conway. Cabot plays Conway as well that evening.