By Kirk Stewart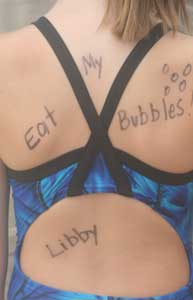 The Central Arkansas Swim League (CASL) held its annual Meet of Champions Saturday at the aquatics facility at UALR. The meet was a culmination of one of the best seasons to date for the Bryant Barracudas.
To make it to the Meet of Champs, the swimmers have to record a particular time in any given event. A swimmer can qualify in one or all of the five events: Freestyle, Backstroke, Breaststroke, Butterfly and Individual Medley. There was also a Freestyle relay portion of the meet.
Competing against the Barracuda qualifiers were qualifiers from Cabot Piranhas, Lakewood Waves, Maumelle Marlins, Otter Creek Otters, and Sherwood SharkRockets.[more]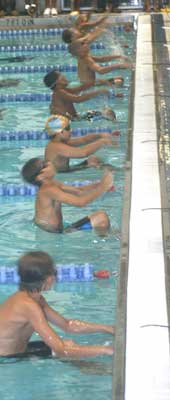 Some of the highlights from the day saw Ross Grant – who shaved a whopping 15 seconds off his IM time – tied for the prestigious 13/14 year old High Point Winner.
Noah Williams won his division of Freestyle and Breaststroke and place third in Backstroke. Reagan Dabbs had a great day as well, shaving time off of her events. Both Noah and Reagan competed in the 9/10 year old division.
Six year old Olivia Chambers continued to dominate her age group wining her division of Freestyle, Backstroke, Breaststroke and Butterfly. Not a bad day's work!
One of the most exciting finishes of the day was in the 13/14 year old boys' Freestyle relay. The Barracudas were swimming for their lives as they swam toward the final leg. They were in an epic battle with the Sherwood team. When anchors Luke Jamison for the Barracudas and Sherwood's Sam Scott hit the water, it was anyone's race. With just one one-hundredth of a second separating the two, the Bryant Barracuda's came out of the water with the crown and a new Meet of Champs record to boot. The relay team consisted of Hunter Law, Brent Heil, Ross Grant and Luke Jamison.
The top 3 swimmers in each event receive medals. Collectively, the Barracudas brought back home to Bryant more than 120 medals from the meet.
Team representative Jill Dabbs commented, "If all of our older swimmers return next year we should dominate the league in the 15 and up age group in girls and boys and we have never even come close in that age division to being that strong."
In all, there were over 100 Barracudas invited to the Meet of Champs. 43 swimmers competed in all five events!
The qualifiers from Bryant were Aaron Kizer, Adam Lorio, Aidan Birdsong, Alexis Lorio, Allie Anderson, Alyx Ramsey, Amanda Butler, Amanda Stovall, Andrew Jones, Andrew Lorio, Anna Claire Williams, Anna Griffiths, Ashlin Kizer, Aubrey Sullivan, Audrey Guyett, Austin Gray, Avery Lorio, Boston Heil, Boyce Bethel, Bradley Lunsford, Brennan Bullock, Brent Heil, Cam Bolton, Chase Burnham, Cole Gillespie, Courtney Wells, David Flora, Devin Hester, Dillon Quintus, Dylan Machycek, Dylan Wolf, Dyllan Tazelaar, Elizabeth Milam, Elizabeth Thompson, Ella Reynolds, Emily Dabbs, Erin Moser, Ethan Loomis, Garrett Eason, Garrett Sullivan, Grace Griffiths, Hailee Bradley, Hailee Denton, Harvey King, Hayden Stewart, Hayley Knowles, Henry Bethel, Hunter Law, Jax Hopkins, Jenna Jamison, Jesse Wolf, Jessica Butler, Jillian Colclasure, Jillian Langley, Jillian Stewart, John Dellorto, Jordan Haywood, Jordan Martin, Julianna Shelton, Justine Tazelaar, Kaitlyn Bolton, Kara Moser, Katie Smith, Kelsie Vaughn, Kyle Douglas, Lauren Wood, Libby Majors, Lindsey Butler, Logan Gartin, Luke Jamison, Luke Peavey, Macey Loudon, Madison Dunn, Mary Dawson, Mason Nelson, Matthew King, Megan Curry, Megan Matthew, Misty Wells, Mollie Robinson, Monica Guyett, Nicholas McDaniel, Nicole Guyett, Noah Williams, Olivia Chambers, Parker Nelson, Peyton Barrow, Peyton Ramsey, R.J. Murphy, Rachel Williams, Reagan Dabbs, Reagan Smith, Ross Grant, Samantha Hostetler, Samuel Cornwell, Sarah Spakes, Sarah White, Sophie Williams, Stanley Robinson, Steve McDaniel, Sydney Bratton, Sydney Reynolds, Tabitha Pace, Tiffany Robinson, Trip Denton, Ty Marshall, ViviAnne Flora, Whitney Meyer, Zachary Dawson, and Zachary Milam.
For all of the results of the 2009 Meet of Champs, go to http://www.teamunify.com/caslrec/__eventform__/44308_2009%20MOC%20Results.pdf