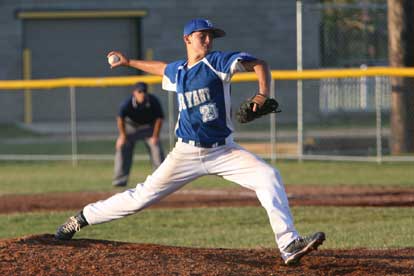 BENTON — The Bryant 14-year-old Babe Ruth All-Stars have fought all the way back to force a winner-take-all finale at the State Tournament at Holland Park in Benton.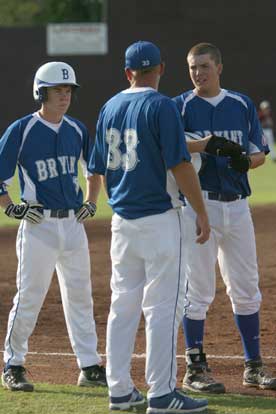 After losing their opening game, the Bryant team has fought through the losers bracket and, tonight, eliminated Little Rock Junior Deputy 11-1 in six innings then avenged that opening loss to White Hall with a 9-1 victory that forces the ultimate championship game on Thursday evening at 6.
Both teams will play in the Southwest Regional Tournament to be hosted by Bryant. The Bryant Stars get an automatic bid and White Hall will be there as the South State representative. That tournament begins at Bryant High School Field on Friday, Aug. 7.
This group of Bryant players is coming off a World Series title last summer as 13's. And, after the disappointing start, has started to play like a World championship team.
The team, coached by Jimmy Parker with assistance from Tony Ethridge and B.J. Wood, includes Zach Cambron, Evan Castleberry, Hayden Daniel, Josh Davis, Evan Etheridge, Tyler Green, Riley Hall, Blain Jackson, Tyler Nelson, Cameron Price, Daniel Richards, Trent Rivers, Tryce Schalchlin, Justin Vincent and Marcus Wilson.[more]
Bryant 9, White Hall 1
Nelson shut out White Hall on just two singles over the first four innings while Bryant piled up an 9-0 lead. The teams traded runs in the fifth then Nelson worked around a pair of walks in the sixth and Hall came on to close it out in the seventh.
He and Wilson each had two hits as well.
Bryant got on the board in the first when Daniel beat out a bunt for a hit, stole second and took third on Nelson's sacrifice bunt. An out later, Richards singled to center to bring in the run.
Nelson had to work out of a jam in the bottom of the inning. With two down, a runner reached on a third-strike wild pitch. An infield single and a walk followed to load the bases but Nelson got the next batter to fly out to Green in center to retire the side.
That began a stretch in which he set down 10 in a row, though, along the way, he gave up a double only to have his teammates work the relay to nail the runner trying to make it to third.
He wound up with eight strikeouts and three walks in his six innings.
Bryant went back to work on offense in the second, taking command of the game with a five-run outburst. Ethridge walked to open the inning. Cambron singled him to third then stole second. With one out, Daniel walked to fill the bags for Nelson who came through with a two-run single to right-center. Wilson singled in a pair and Green capped the inning with an RBI hit, though he was thrown out trying to stretch the double into a triple.
It stayed 6-0 until Bryant tacked on two more in the fourth. Daniel drew a one-out walk, stole second and reached third on a bunt single by Nelson. Wilson then chased both home with a shot to right-center for a double, making it 8-0.
In the top of the fifth, Castleberry reached on an error with one out and, with two down, he scored when Jackson's drive to right was misplayed.
White Hall broke up the shutout in the bottom of the inning. A pair of singles started things but the next batter drove one to center that Green charged and fielded quickly enough that a throw to second got a force out. A bouncer to short resulted in a force at second while the lead runner scored.
Nelson worked around a pair of one-out walks in the sixth the Hall surrendered a couple of singles but ended it by inducing a fly to center to leave them stranded.
Bryant 11, LR Junior Deputy 1
Wilson went the distance on the mound allowing one run on three hits. He walked four and struck out nine in six innings of work.
The lone Junior Deputy run scored in the third when a single was followed by an RBI double. The only other inning the Little Rock team threatened in was the fifth when, with one out, a walk, a single and a passed ball put runners at second and third with the top of the order coming up. But Wilson struck out the lead-off batter and, after a walk, got the third out on a pop to Nelson at short.
Bryant led 5-0 after two innings and led 5-1 through five frames. In the sixth, however, six runs scored to end the game in accordance with the 10-run rule.Daniel went 4-for-5 in the game. Nelson went 3-for-3 with a pair of walks. Richards added two hits.
In the first, Daniel singled, stole his way to third and scored on a base hit by Nelson to make it 1-0.
In the second, Ethridge and Schalchlin drew walks, Jackson bounced into a force at third but Daniel beat out a bunt single to load the bases for Nelson who shot a single to left to plate a pair. Daniel scored when Wilson's drive to right was misplayed. Richards drew a walk to load the bases again and Nelson scored when Green bounced into a force at third.
Bryant loaded the bases in the third on singles by Jackson, Nelson and Wilson but Junior Deputy got out of the inning.
The game-ending sixth-run uprising began with Wilson reaching on an error and concluded with him walking to force in the 11th run.
In between, Richards and Green singled. Price picked up an RBI with a groundout to third before Rivers walked to load the bags again. This time Cambron drilled a double to center and, a pitch later, so did Davis. Daniel beat out a bunt single, Nelson was hit by a pitch and, with the bases loaded, Wilson walked to force in the game-ending run.