Photos courtesy of Paul Dodson and Julie Shelby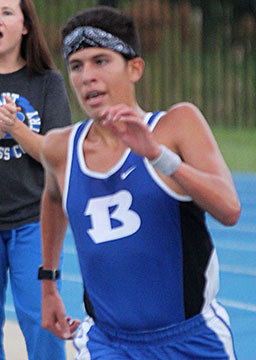 Chris Barrientos finished first overall and led the Black team to a first-place finish in the annual Bryant cross country intrasquad meet at Bryant Stadium Thursday night.
The Blue team was led by Bresner Austin and the White team was paced by Hagan Austin.
Chris Herrera led the boys junior high pack.
Barrientos ran a 9:54. Bresner Austin was second at 11:52. Christian Brack, with a time of 11:19, was third overall, running for the Black team. Hagan Austin was fourth, clocking in at 11:24 with teammate Nick Fowler fifth in 11:27.
Herrera, running with the White team, turned in an 11:57, placing 11thoverall.
Bryant officially opens the 2018 season on Saturday, Sept. 1, at Ouachita Baptist University in Arkadelphia.
Here are the full results of the intrasquad competition: